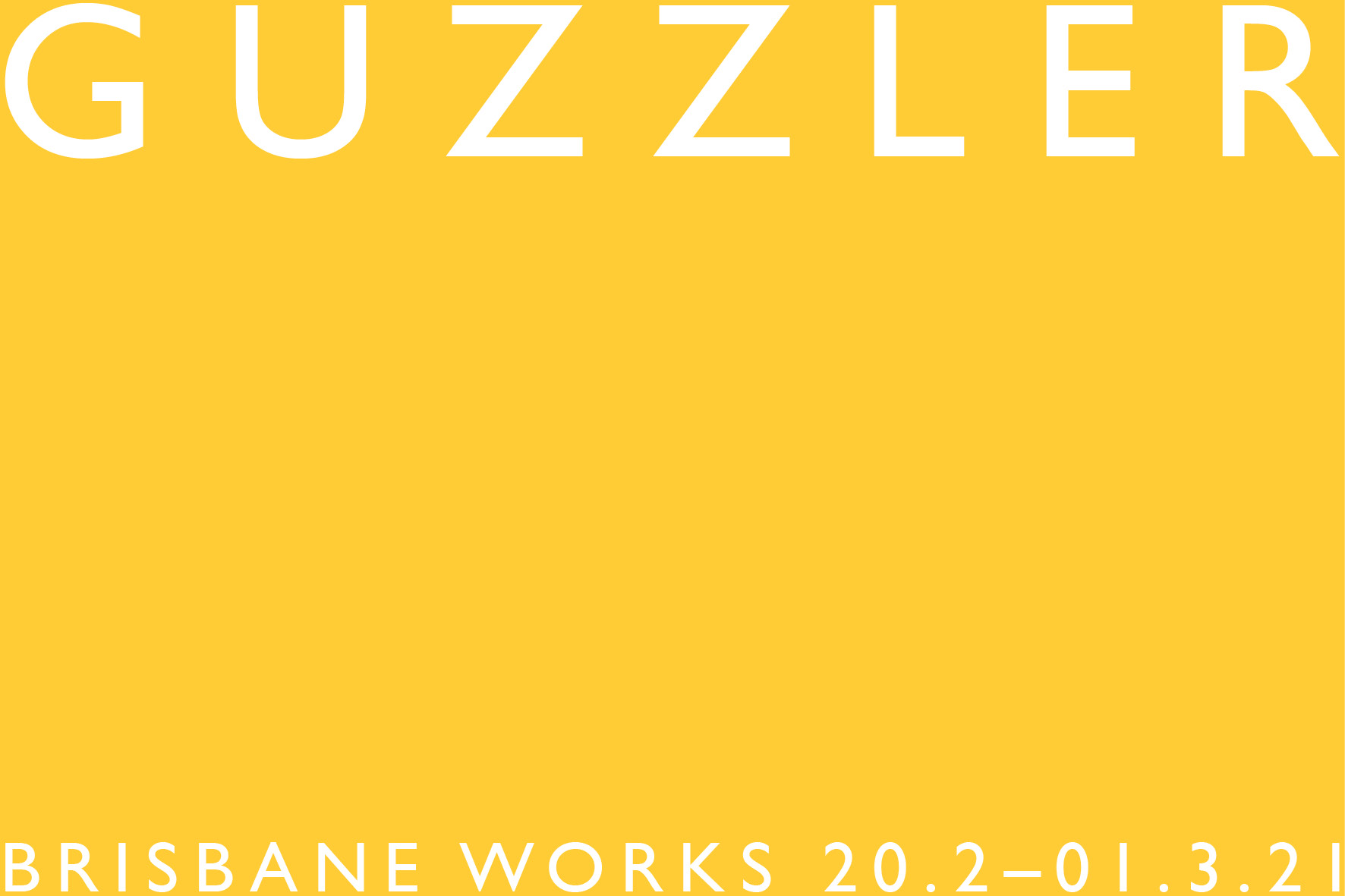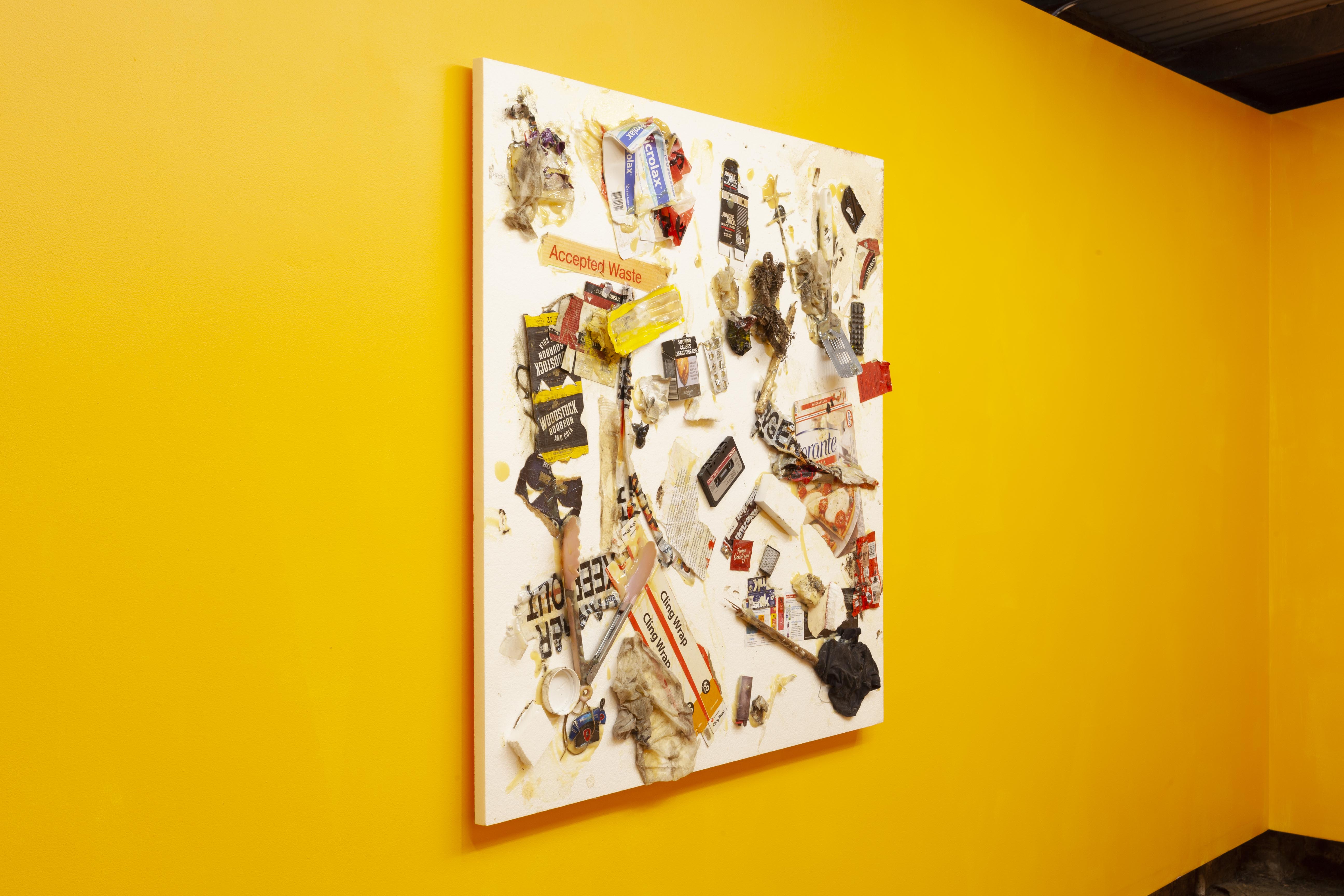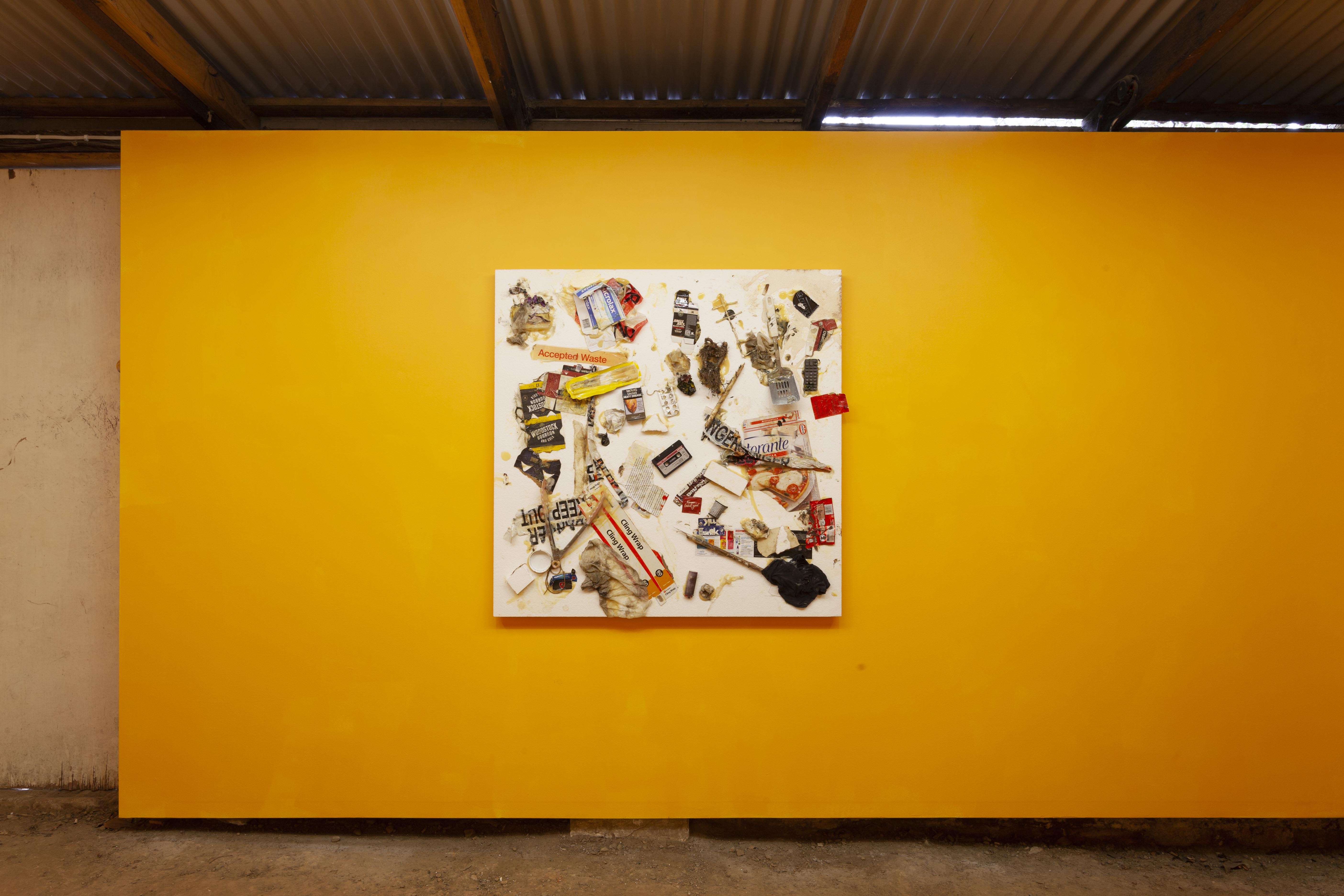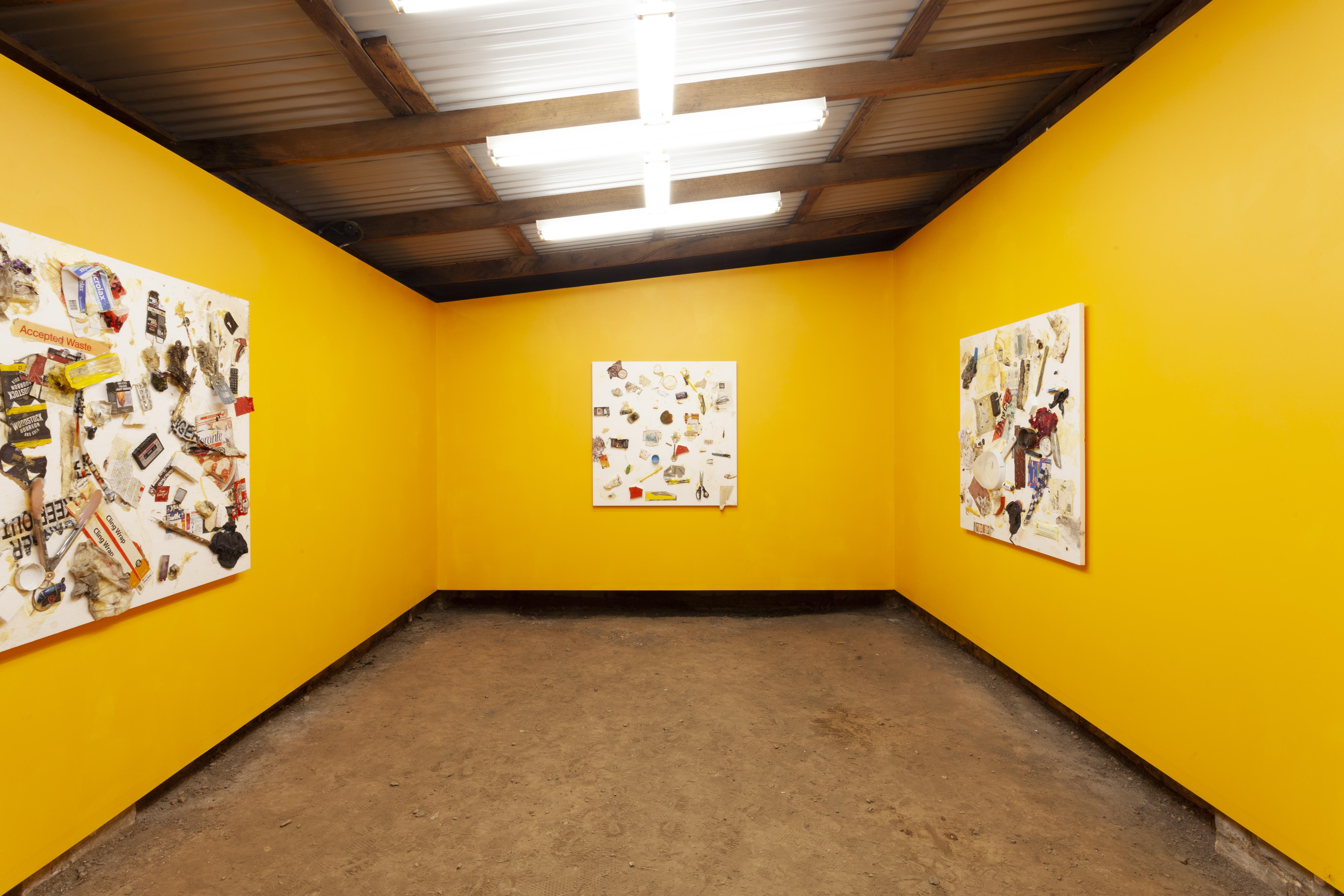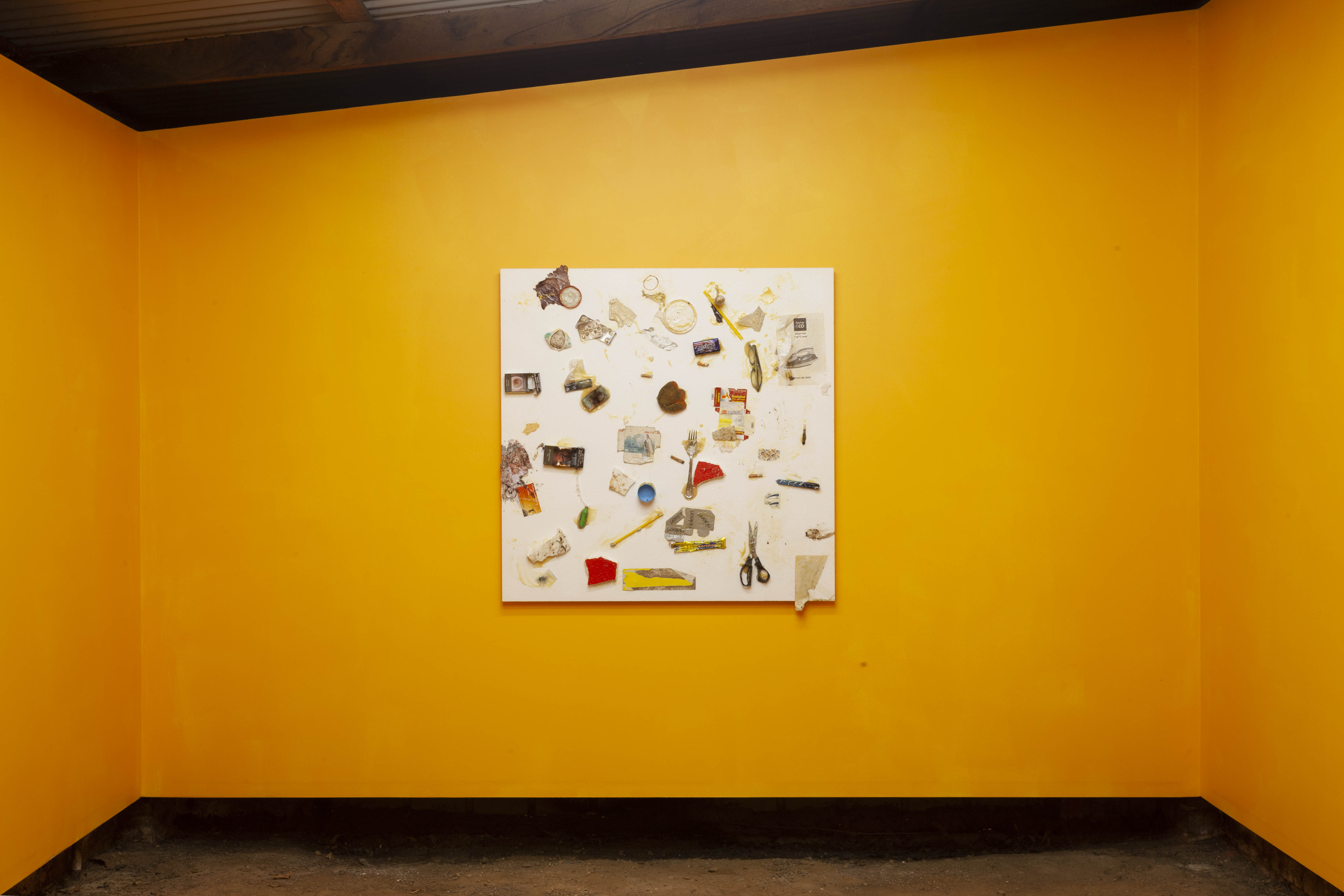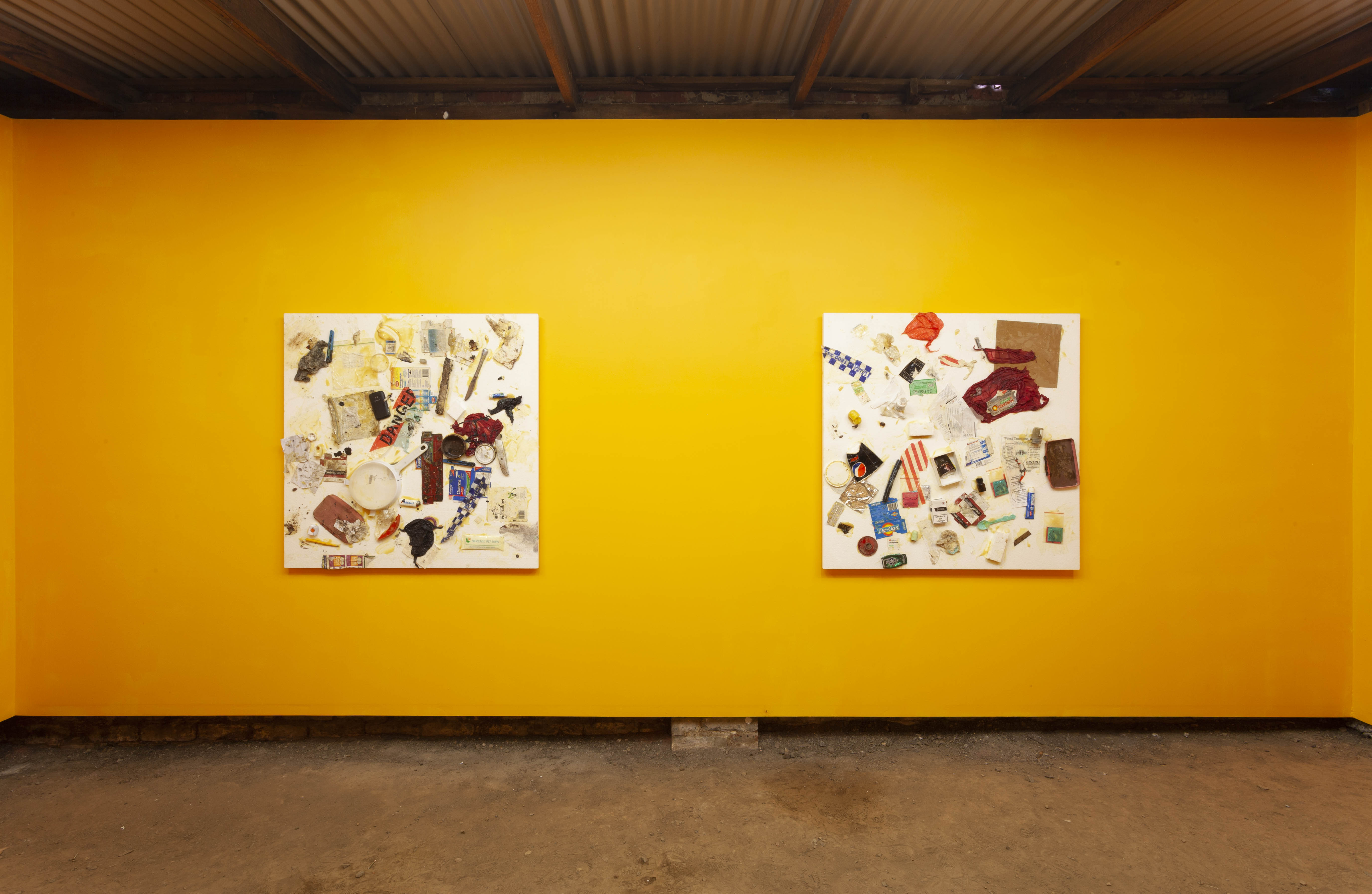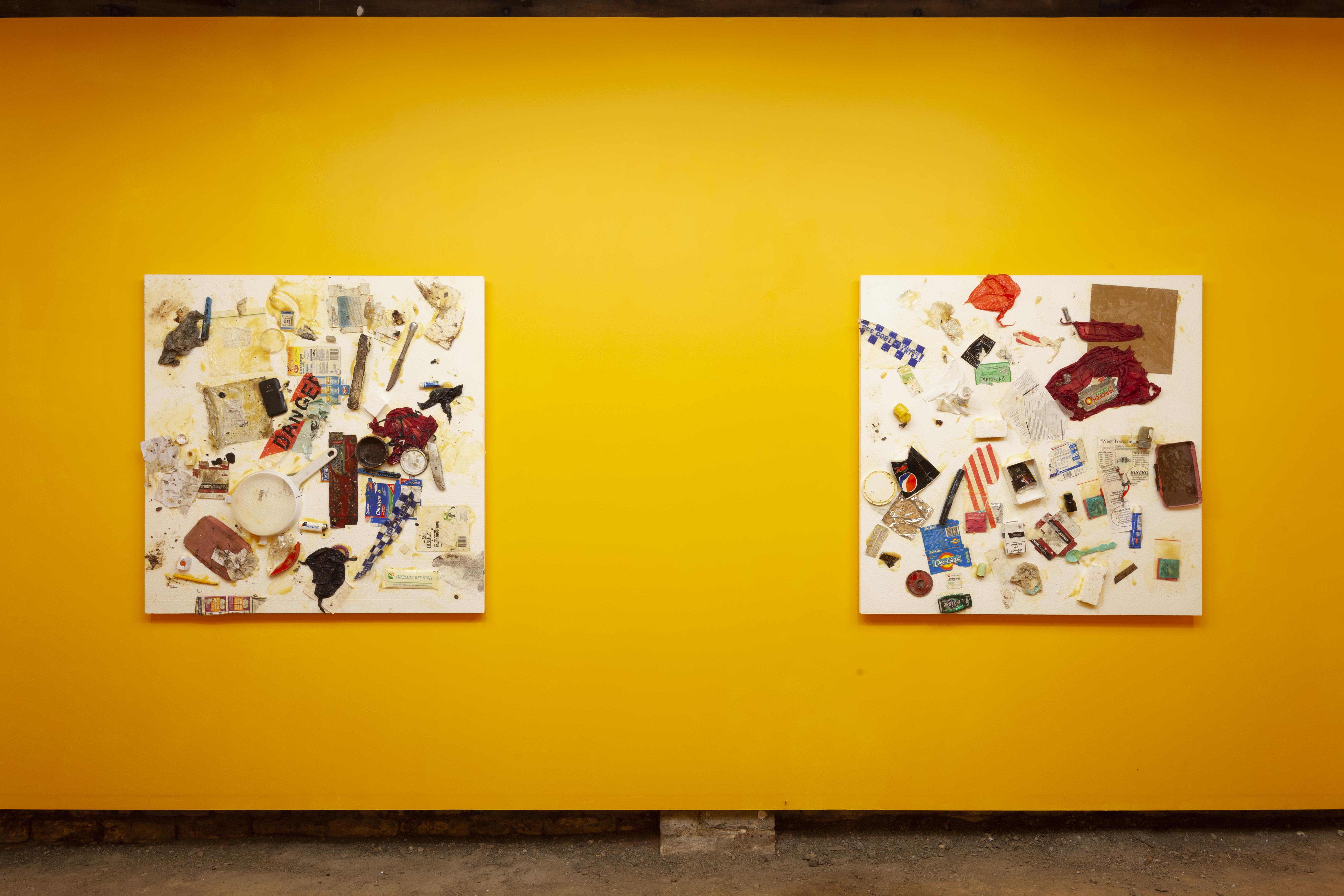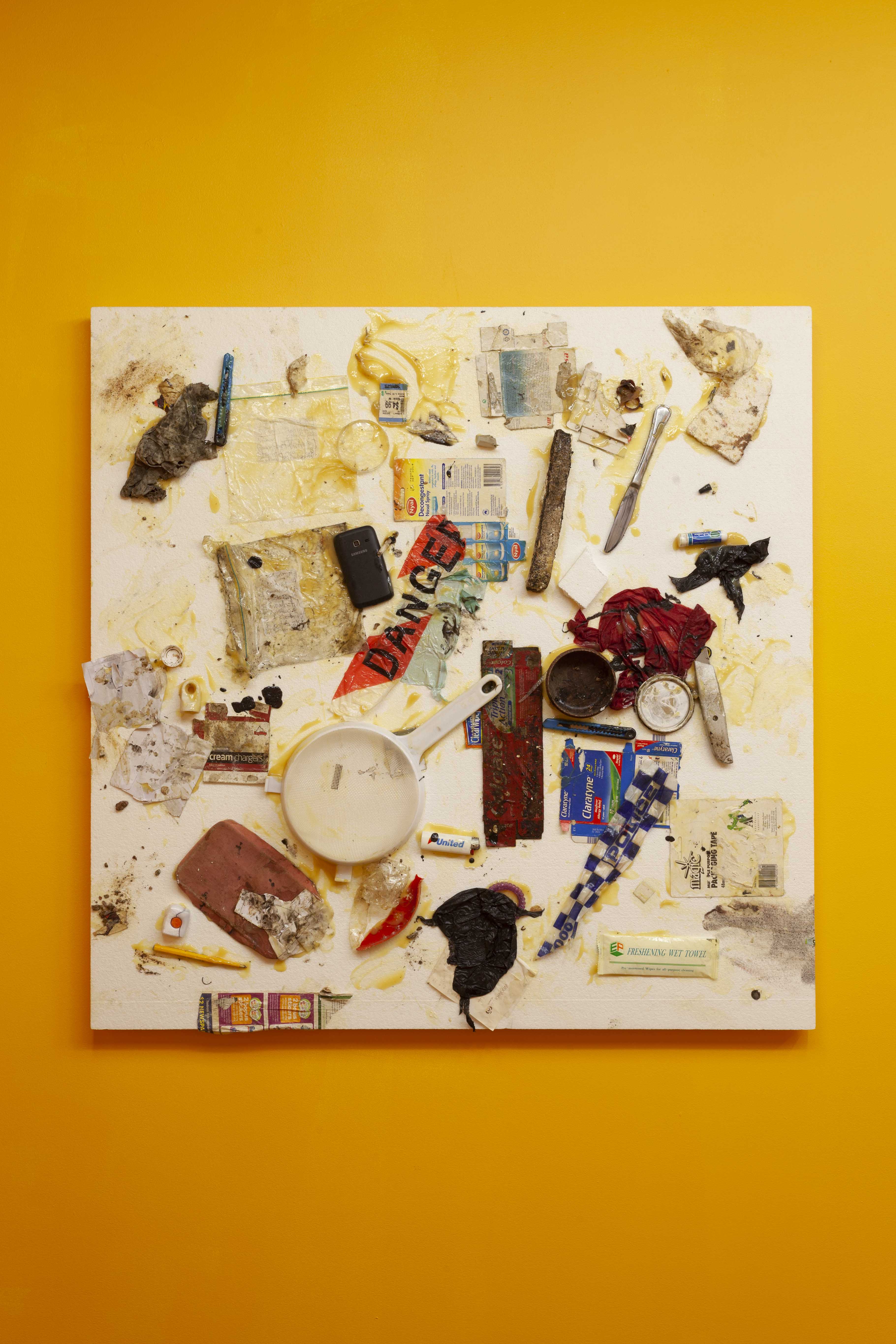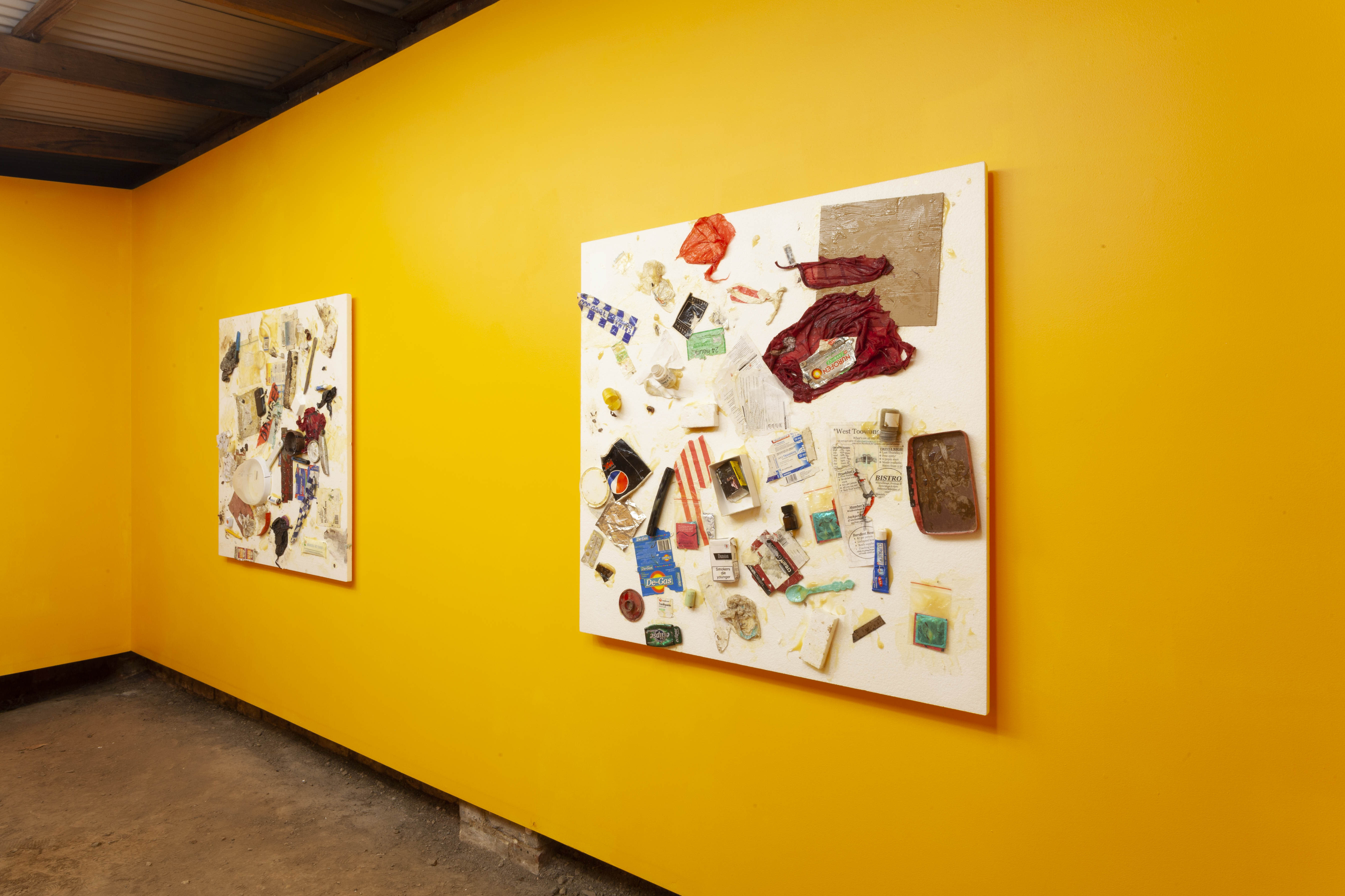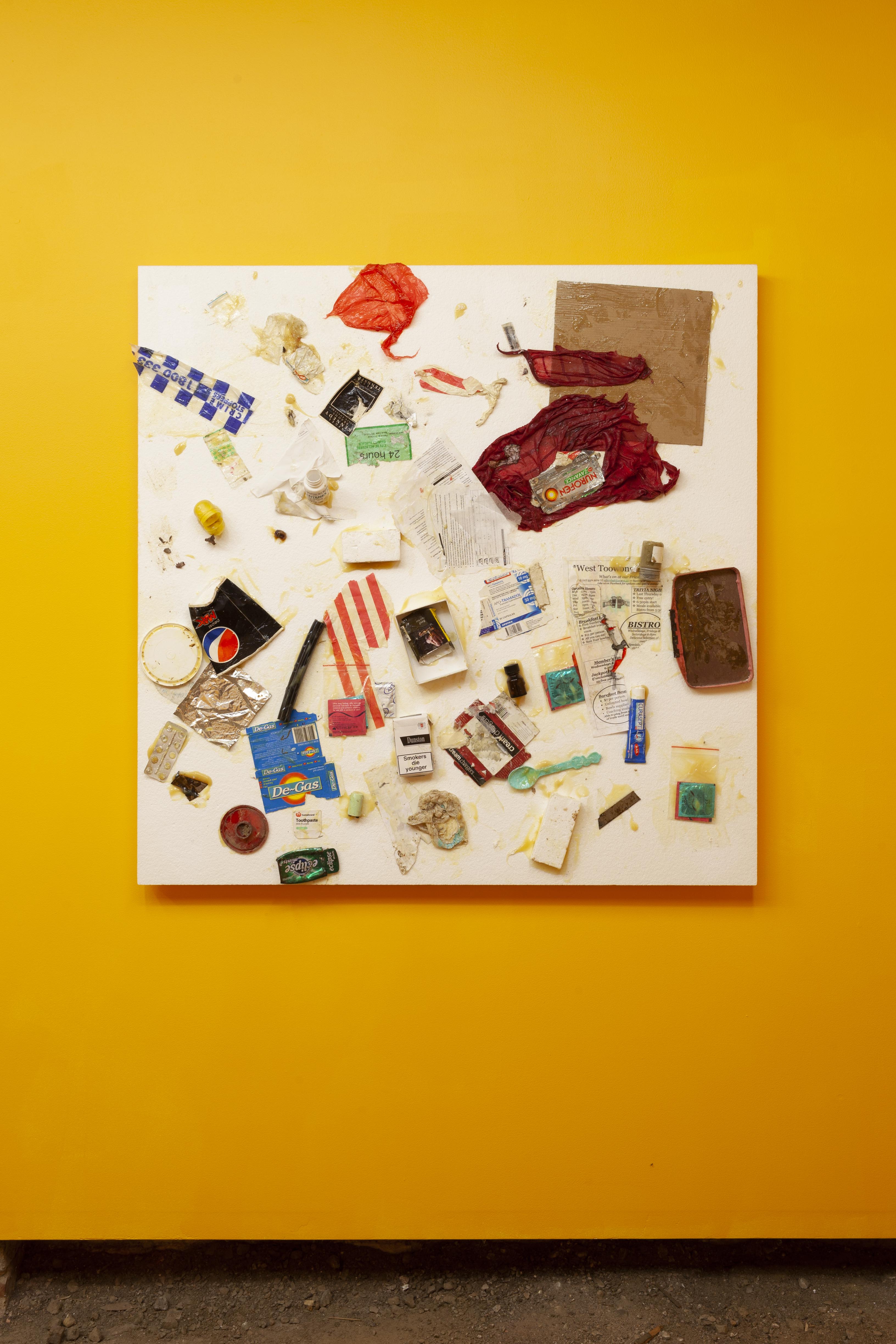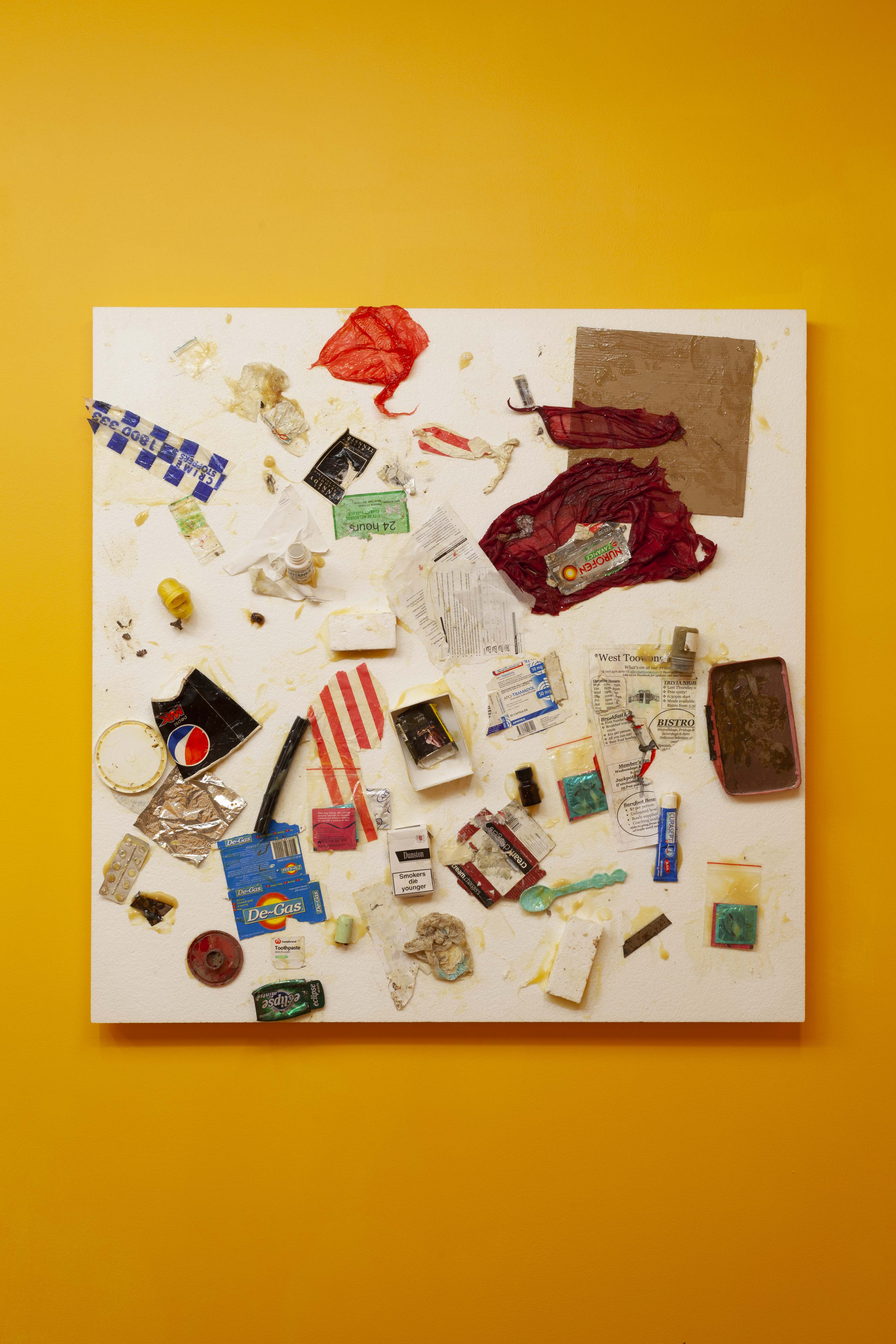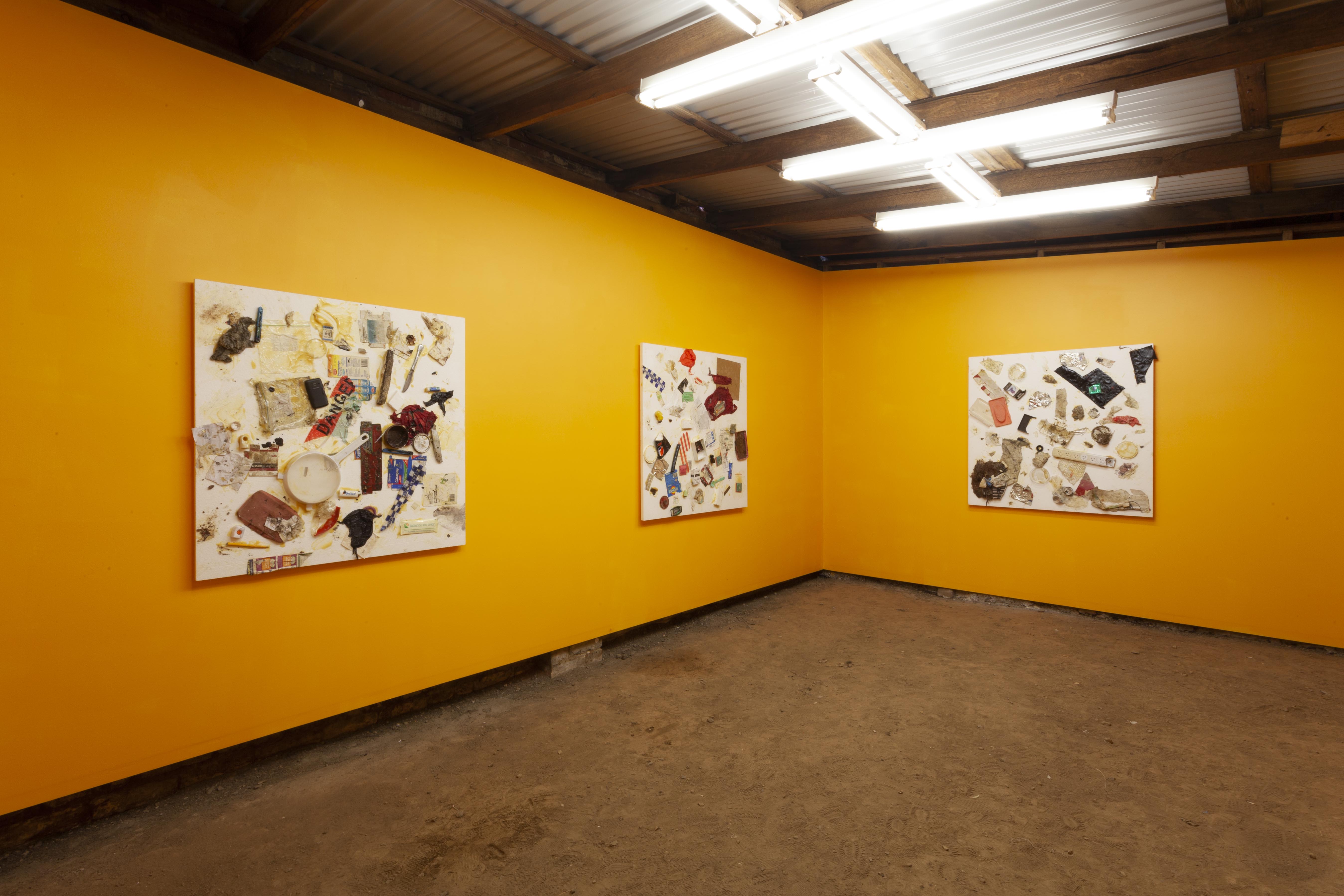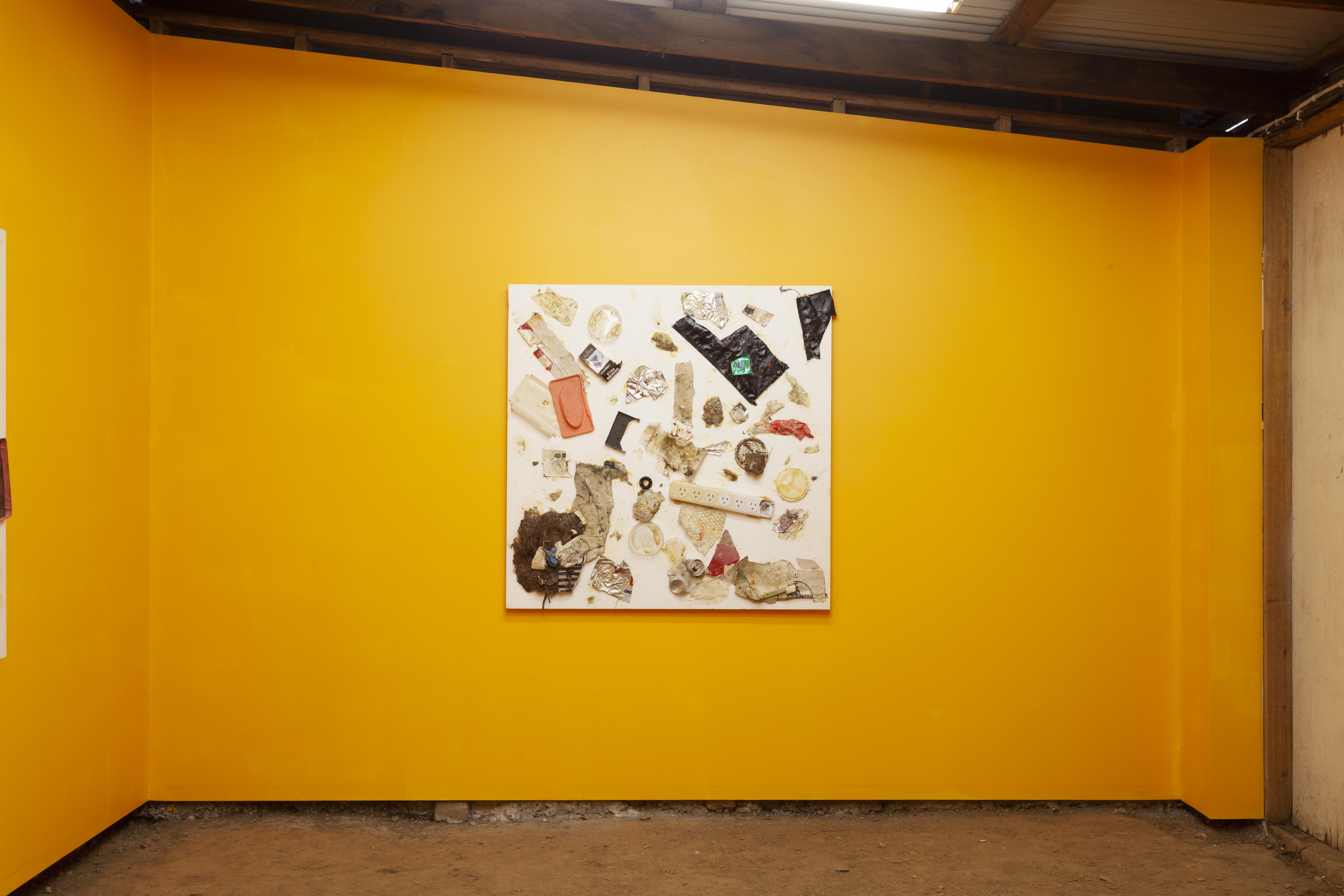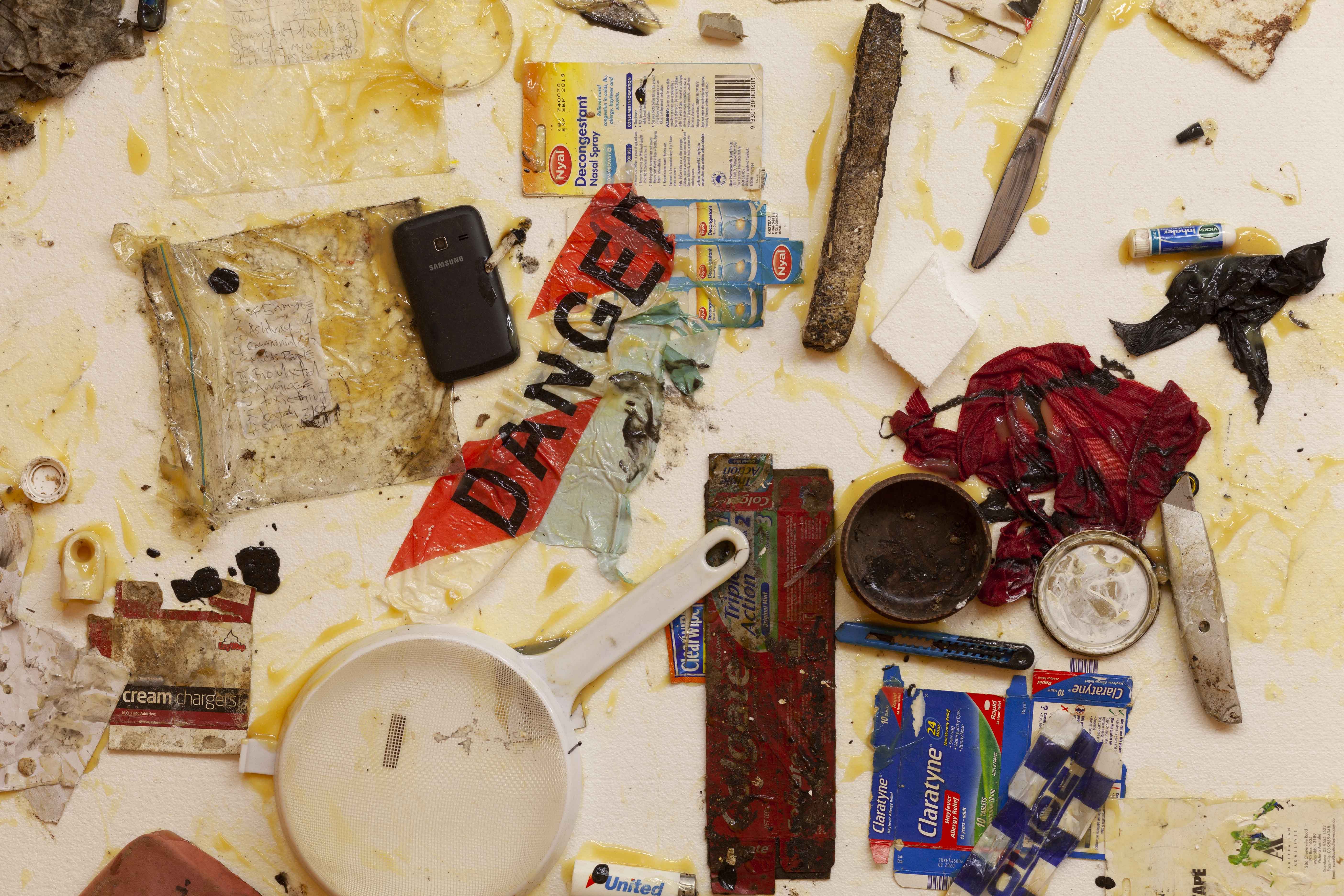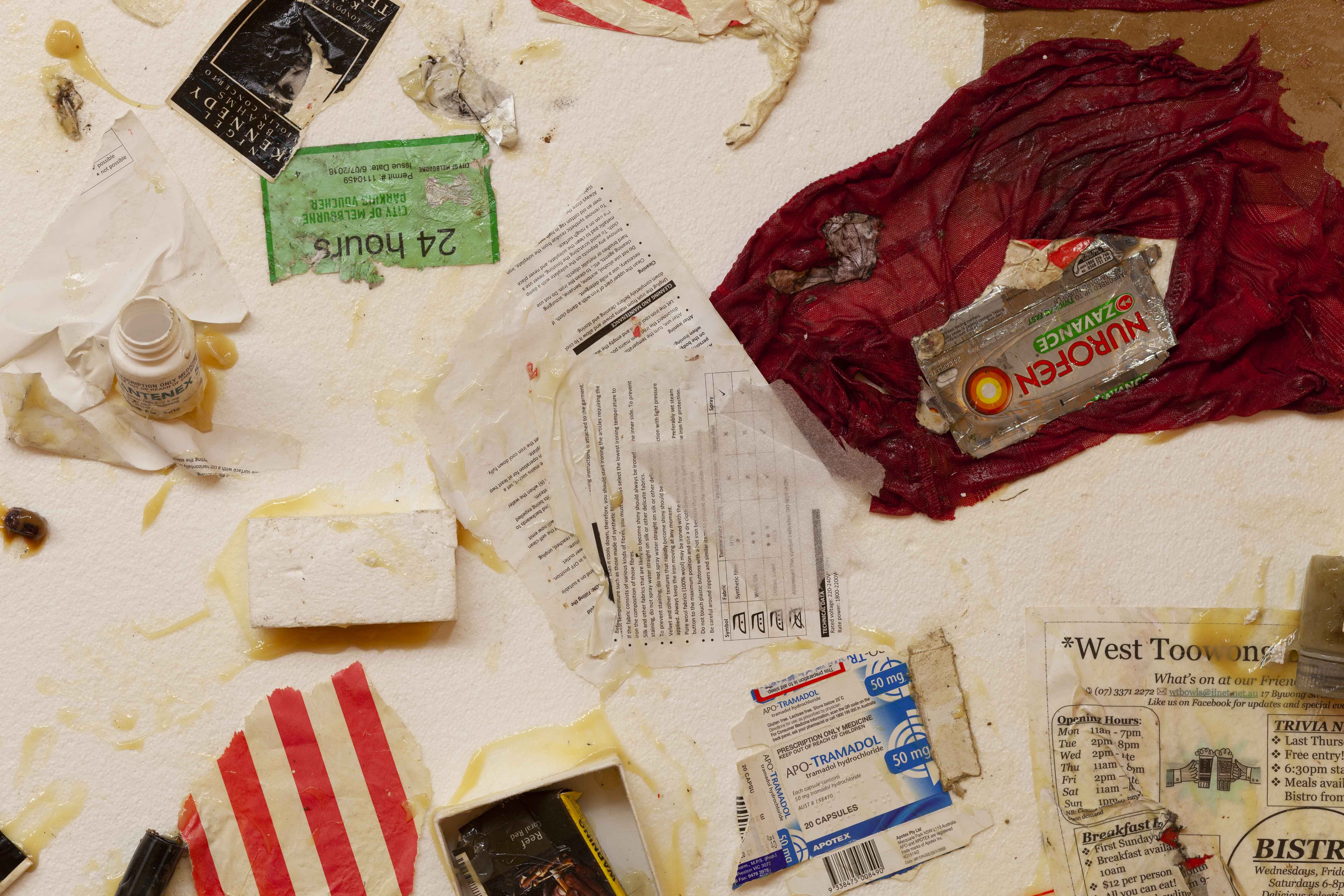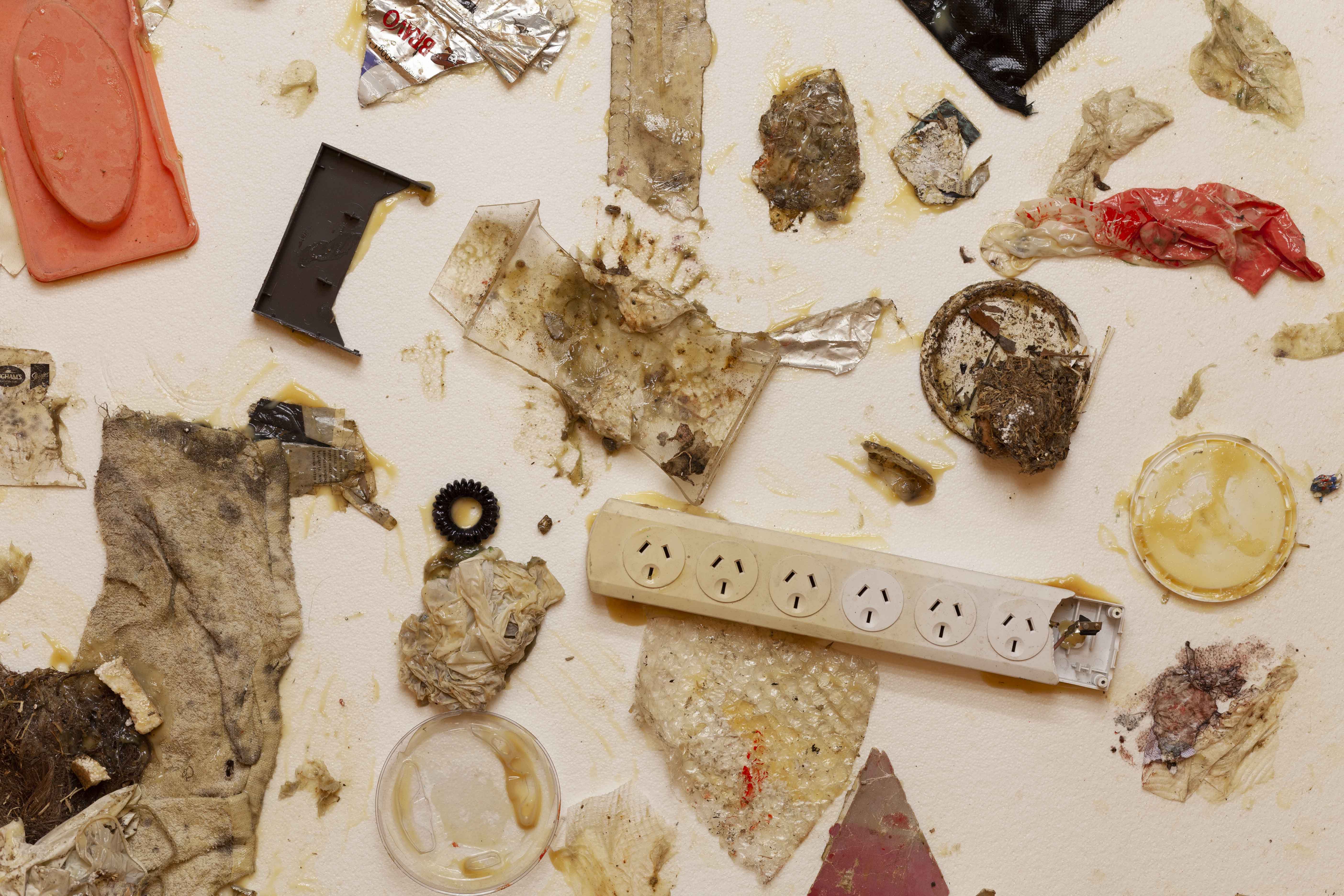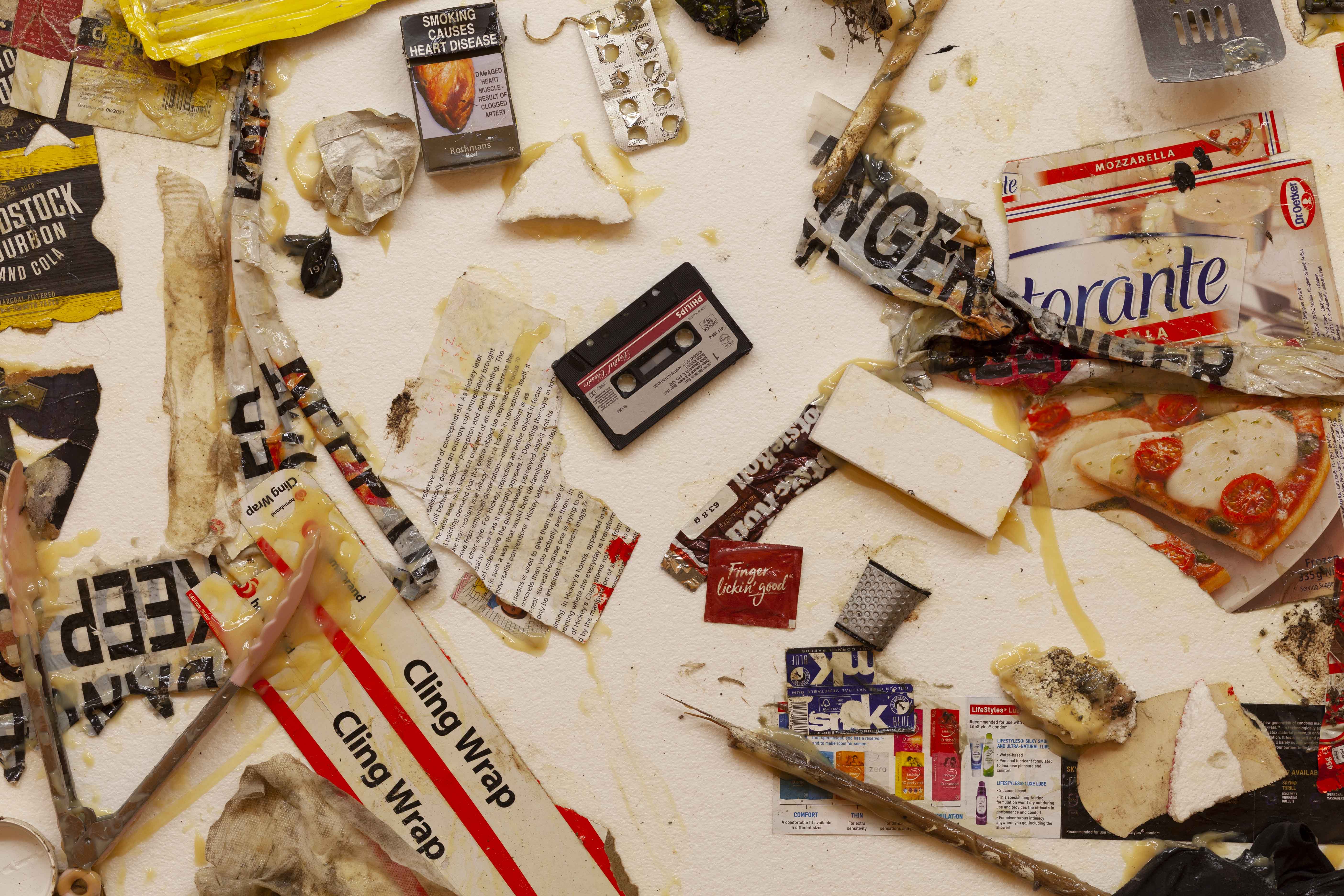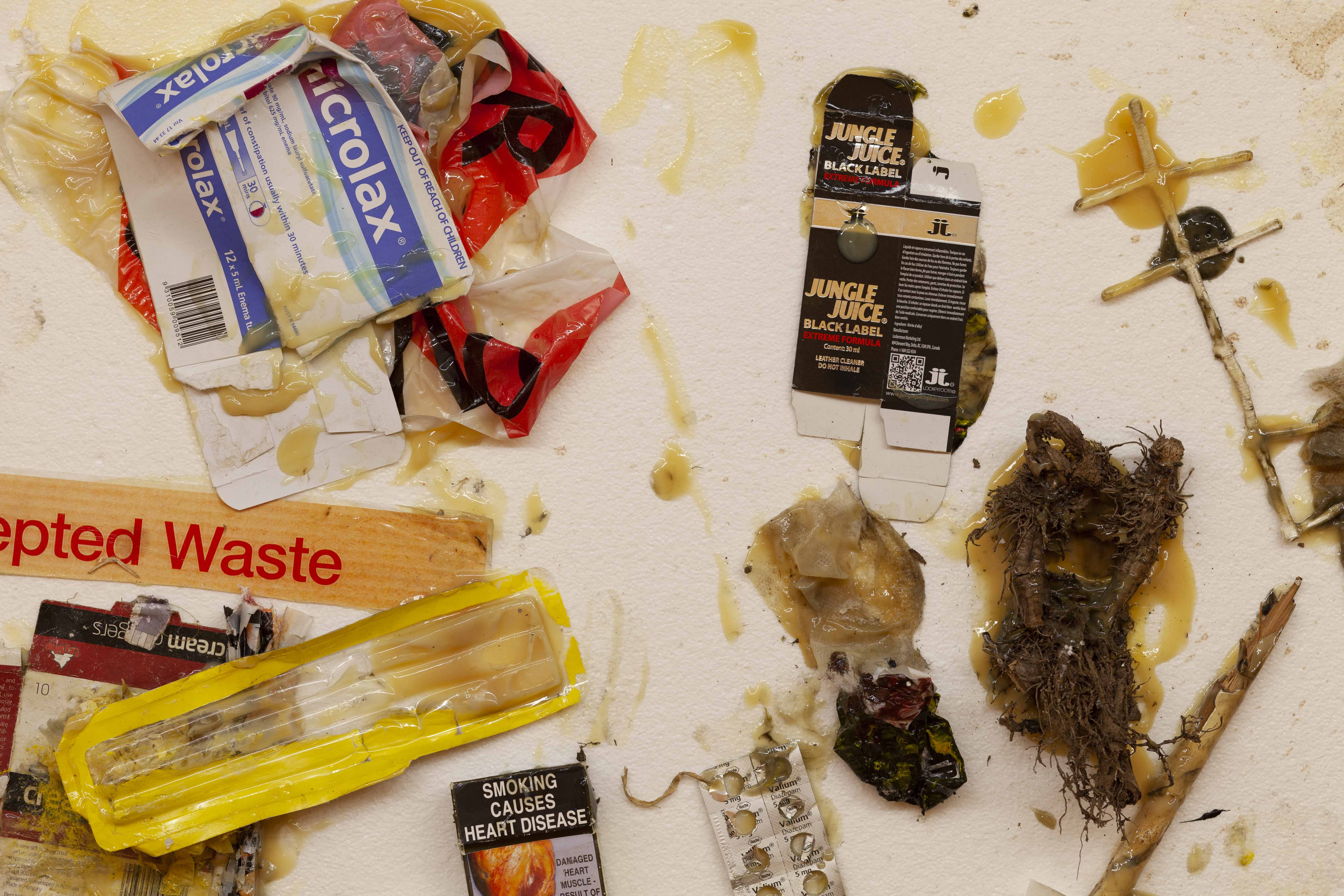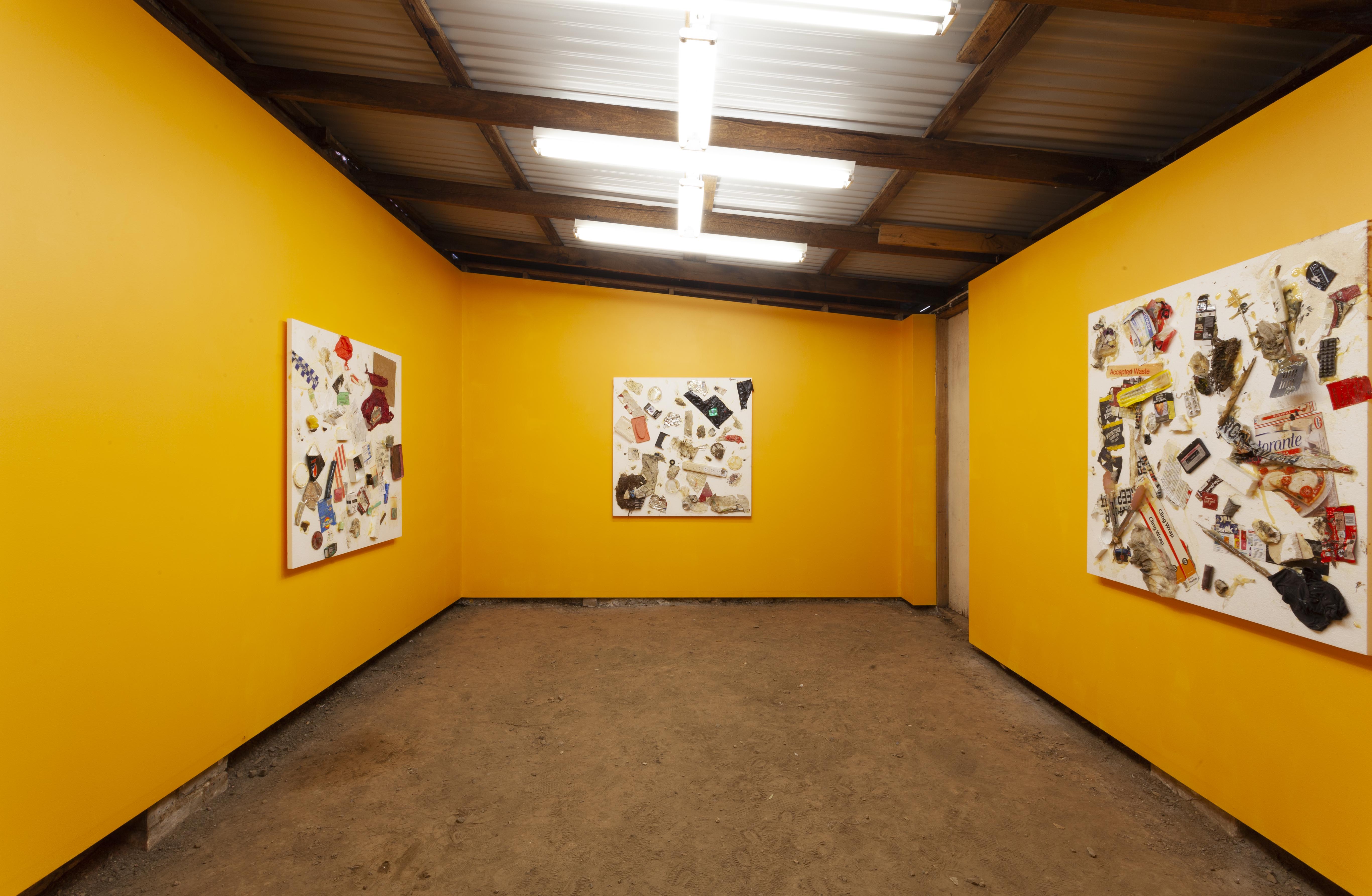 Brisbane Works, 20.2–1.3.21.
Work 1, 2019:
Curasept Gingivital Gingivitis Gel tube, Blade, Plastic spoon, DUNSTON cigarette soft pack, Eclipse mint tin (squashed), Toothpaste packaging, Condom and lubricant packet, Hosing, Empty blister back, Cream chargers packaging, Empty amyl nitrate bottle, Tramadol packaging, Nurofen packaging, Police tape, West Toowong Bistro food flyer, Paper Pepsi max, De-Gas (DEGAS) packaging, Iron instructions (torn fragments), Styrofoam pieces, Kinder surprise toy shell, Dirt, Drug bag, City of Melbourne parking permit, Packing foam, Red plastic bag, Paper bag, Diazepan plastic bottle, Cardboard, Female underwear, Cling wrap, Paper, Glitter tub, Found scrawled notes, Battery, Food wrapper, Plastic lid, Kwik grip, Condom, Tissue, Sticker, Paper bag (red and white striped), Meat packaging, Pierre Cardin (accessories box - fragment).
Work 2, 2019:
Hand rolled cigarette, Store cigarettes, Box cutter, Steam Iron manual, Reading glasses, Dirt, Scissors, McDonalds salt, Cardboard, Chewing gum packaging, Fork, Painted polystyrene, Sudafed packaging, Eclipse mint tin, Champagne lid (what is that called? RESEARCH), Sof toy fragment, Whipped cream bulb packaging, Hungry jacks plastic straws, Plastic lid, Whip it bulb, Tissues, McDonalds soft drink paper cup (fragment), Cigarette packaging, Plastic lids, Empty blister packs, Glass jar lid, Rubber band, Polystyrene scraps, Soap block, Envelope scraps (inside on display), Business card, Plastic bag, Filter, Flyer fragment (hand ripped), HANS STRIKER Salami stick packaging, Kwik grip plastic lid, "Nielsen" packaging, Kwik grip.
Work 3, 2019:
Wig, KFC 3 piece feed meal, Paper towel, Alcohol can, Coffee packaging, Plastic hair tie, Towel, Latex gloves, Cassette tape shell (fragment), Power board, Dirt, Plastic, Tissues, Kwik plastic lid, Bubble wrap, Condom packaging, Pierre Cardin accessory case (fragments), Cardboard, Polystyrene pieces, Cigarette packaging, Receipt, Pizza bag offcut, Sticks, Rubble, Muselette.
Work 4, 2019:
Kitchen Tongs, Spatula, Alcohol packaging, Cling wrap packaging, DANGER KEEP OUT tape, Cassette tape, Casette tape inlay, Lighter, Cigarette packaging, Zappo (lolly) packaging, Cassette tape shell, Found identification card, String, Paper towel, Paint brush packaging, Kwik grip, Tootsie Roll packaging, KFC wet wipe, Alcohol lid, Jungle Juice Black Label EXTREME FORMULA packaging, Cream charger packaging, Ristorante pizza packaging, Cigarette paper packaging, Plastic, Wood fragments, Empty blister packs (Valium), Plant, Sticks, Microlax enema packaging, Kit Kat packaging, Condom directions/ manual, Hand rolled cigarette, Tv remote (buttons - fragments), Wine, Tyvek, Computer print out, Plastic, Dirt, Womens underwear (cotton), Polystyrene pieces, Kwik grip application tool, TONINO LAMBORGHINI cigarette packaging, Muselette, Plastic lid.
Work 5, 2019:
Box cutter (plastic), Box cutter (metal shell), Samsung phone, Salvaged tobacco plastic ziplock bag dated (collected etc by Dan Dawson), Kwik Grip, Dirt, Cream bulbs packaging, Tooth paste packaging, Kitchen Sieve, NYAL Decongestant nasal spray, Danger caution tape, Vicks Inhaler, Rubber band, Police tape, Dishwasher tablet, Stones, Womens underwear, Clarantyne packaging, Magic packaging tape packaging, Refreshing wet towel, Red wine, Pierre Cardin accessory box fragment, Plastic hair tie, Black plastic bag fragment, Lighter, Supermarket receipt, Paper, glue stick lid, Biro, Clearwipes packaging, Found plastic scraps, Kitchen apparatus hanging hook, Paint tin lid, Black paint, Painted polystyrene scrap, Polystyrene scrap, Savers Price tag, Pringles plastic lid, Hand rolled cigarettes, Plastic lid, Cigarette packaging, Super glue cap, Found mould stained clothing scraps.
Text by Francis Plagne, February 2021
These five works on square polystyrene panels were made collectively by David Homewood, Luke Sands and Alex Vivian across two evenings in a Brisbane Airbnb in May 2019. They follow on from a series of temporary exhibitions (many of them without audiences) in domestic, institutional and public spaces in which found, purchased or stolen objects were scattered, placed or otherwise arranged and documented in photographs. These impermanent works were most often encountered on the floor; in contrast, these panels are the first works made by the three artists to be displayed on walls (though all three have, both individually and in various pairings, adopted pictorial formats in other work). Much of the method remains the same, involving improvised arrangements of found material, some collected beforehand, some discovered at the site of the work's production. But here, rather than being arranged in situ then disassembled or abandoned, the materials have been fixed in place with liberal helpings of Selleys Kwik Grip. Produced lying flat on a table, the panels are hung on the wall as pictures, moving from horizontal to vertical just as Pollock's drip paintings and Spoerri's snare pictures do.
This simple change in orientation sets off a chain of subtle but important adjustments in our encounter with the work. These loose arrangements of everyday objects have now, despite the absence of paint on their surfaces, become paintings. They have entered a pictorial space, one defined by contemplative engagement and aesthetic delectation. At the same time, the proximity between these works and the artists' installations created from rubbish strewn across carpark floors seems to mock painting's unspoken claim to a realm of especially acute experience remote from everyday entanglements – or, perhaps more accurately, to take pleasure in placing as much pressure as possible on this claim, testing it to find out if it might break.
Many of the trio's previous floor works adopted the scatter pioneered in American anti-form and post-minimal art, and developed in a particularly grungy direction in early Australian installation work by Ti Parks and Domenico de Clario. This mode of spatial (dis-)organisation, which was revived in the 1990s slacker art of Karen Kilimnik and Laurie Parsons, appears to refuse form and order in favour of 'random piling', the results no longer reading as compositions but as indexical traces of acts of scattering or heaping. (This impression is sustained even where, as is the case in many of the floor works created by Homewood, Sands and Vivian, this pure randomness is in fact illusory.) Secured to the polystyrene panels and displayed on the wall, a similar mess of miscellaneous objects demands to be seen in compositional terms, making use of the decentred, all-over strategies of modernist abstraction and activating the tension between the clean geometric shape of the support and the loose arrangements of forms on its surface that sustains and enlivens much painting in the Abstract Expressionist vein. Like the clashing surfaces found in the last decade of Tony Tuckson's work, they achieve a look of stilled motion, of an ad hoc arrangement snared in place. This effect might be described with Philip Guston's words: 'an image which is unsettled, which has not only not made up its mind where to be but must feel as if it's been in many places'. This tension between clarity and disorder is resolved only by the clean edges of the floating supports, themselves further emphasised by the lurid yellow of the gallery walls, which sharply highlights the shape of the white polystyrene.
Despite initial appearances to the contrary, the trash strewn across these surfaces is not simply a random selection of the artists' own waste. Rather, it suggests various layers of sometimes contradictory significance. Alongside refuse connected to the moment of the work's creation, being either taken from the Airbnb's kitchen (spatula, tongs), consumed during its production (cigarette butts and packets), or used in making it (lids from containers of Kwik Grip), we find items collected by Sands in Noosa, and Homewood and Vivian in Melbourne, and transported to Brisbane specifically as art materials: the foot of a soft toy used in a previous Vivian installation, police and 'danger' tape, McDonalds salt packing that, judging from its design, might be many years old. The slapdash sits alongside the mysteriously considered. Beyond this, many of the objects can be seen as chosen to suggest the ghost of a semi-fictional personality, an outer-suburban party burnout who leaves a trail of Woodstocks, pill bags and cream bulbs.
Perhaps most striking about the materials present in these works is their consistent connection to the everyday realities of the body – of eating and drinking, illness, intoxication, sex. The items with sexual significance are perhaps the most indicative of the artists' approach to their materials. Though we find condoms, lube and poppers, alongside fragments of women's underwear, there are no sexual images. Rather than any kind of post-Pop reproduction of the society of the spectacle and its simulacral repertoire, Homewood, Sands and Vivian direct our attention to the commercially produced objects and materials that structure and enable fundamental bodily experiences. This focus implies no easy, supposedly critical judgment: though 'commercialised', these experiences (digestive, erotic, gustatory) are not thereby any less real.
These works also register the bodily presence of the artists directly, in the mess of glue that covers their surfaces as a result of the process of securing the materials. Though no paint has been used in these works, the drips, pools and smears of Kwik Grip give the work a painterly dimension that unavoidably calls up the language of gestural abstraction, but reduced to a mere by-product of assembling the work. This self-negating reference to painterly abstraction connects with other works by Homewood, Sands and Vivian that suggest this tradition in a gently mocking way, including a large black and white drip painting by Homewood and Sands, covered in empty pharmaceutical packaging and cigarette butts and self-consciously titled Pollock painting, or temporary works by Vivian in which bourbon sauce or mayonnaise are splashed and sprayed on walls. These references to a painterly language historically seen as embodying liberated subjective experience do not exhaust themselves in irony. Rather, like Claes Oldenburg's drawings imitating graffiti, they celebrate 'stunted expression'. In mocking and stunting the exaggerated claims to freedom made for Abstract Expressionism, they claim for themselves a different kind of spontaneity (often communal), one liberated by its evacuation of profundity and refusal of seriousness.
The work seems to refuse the exercise of taste, traditional aesthetic values and, ultimately, even the claim to meaning, proposing instead endless episodes of accumulation and display of the most common stuff. But, precisely in these artists' almost perverse immersion in the most prosaic material detritus of everyday life we might find an orientation that can only be described as poetic. Rather than being defined by discourse, ideas or careers, art – tucked away in Guzzler's suburban surrounds – is lived here as an attention that buries itself in the materials of everyday life, an activity that forgoes goal-directed rationality and attunes itself to the minutiae of its surroundings, a derangement of the senses that digs under the semantic crust for fragments of something crude and fragile.