Guzzler is pleased to present a two-part exhibition of paintings by Grace Anderson, Hana Earles, Alethea Everard, and Evie Poggioli, four women artists based in Melbourne. Born in the early 1990s, Anderson, Earles, Everard, and Poggioli have emerged as key proponents of the so-called slacker art style associated with local spaces Punk Café, Suicidal Oil Piglet, and Meow. These artists belong to an aesthetic milieu that prizes the deskilled and the degraded; ranging across abstraction and figuration, their work references such things as café décor and street art, sex work and teen girl subculture. This exhibition makes visible a network of similarities and resonances between the artists, but it also foregrounds the formal, material, and iconographic specificity of their practices. It invites the viewer to contemplate the distance between Everard's spray-painted, autographic board; Anderson's surrealist painting of a bunny; the subtle, mirror-like effects of Poggioli's black acrylic; and Earles' depiction of her father's tie as an abstraction of alternating diagonals. Comprising eleven paintings produced between 2015 and 2020, and accompanied by a publication featuring interviews with the contributors, Recent Tendencies in Women's Painting, Melbourne shows Anderson, Earles, Everard, and Poggioli to be involved in a significant regional dialogue.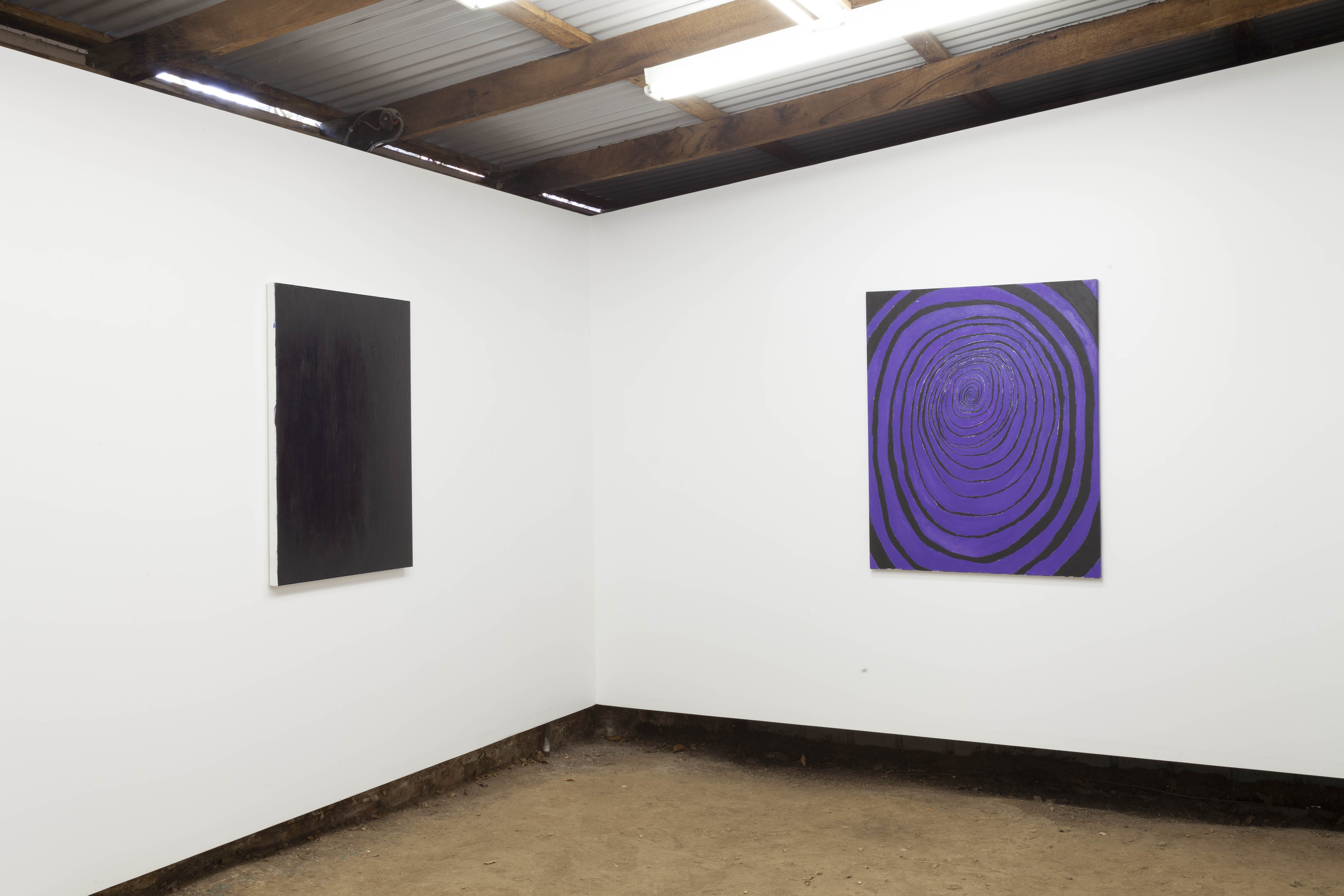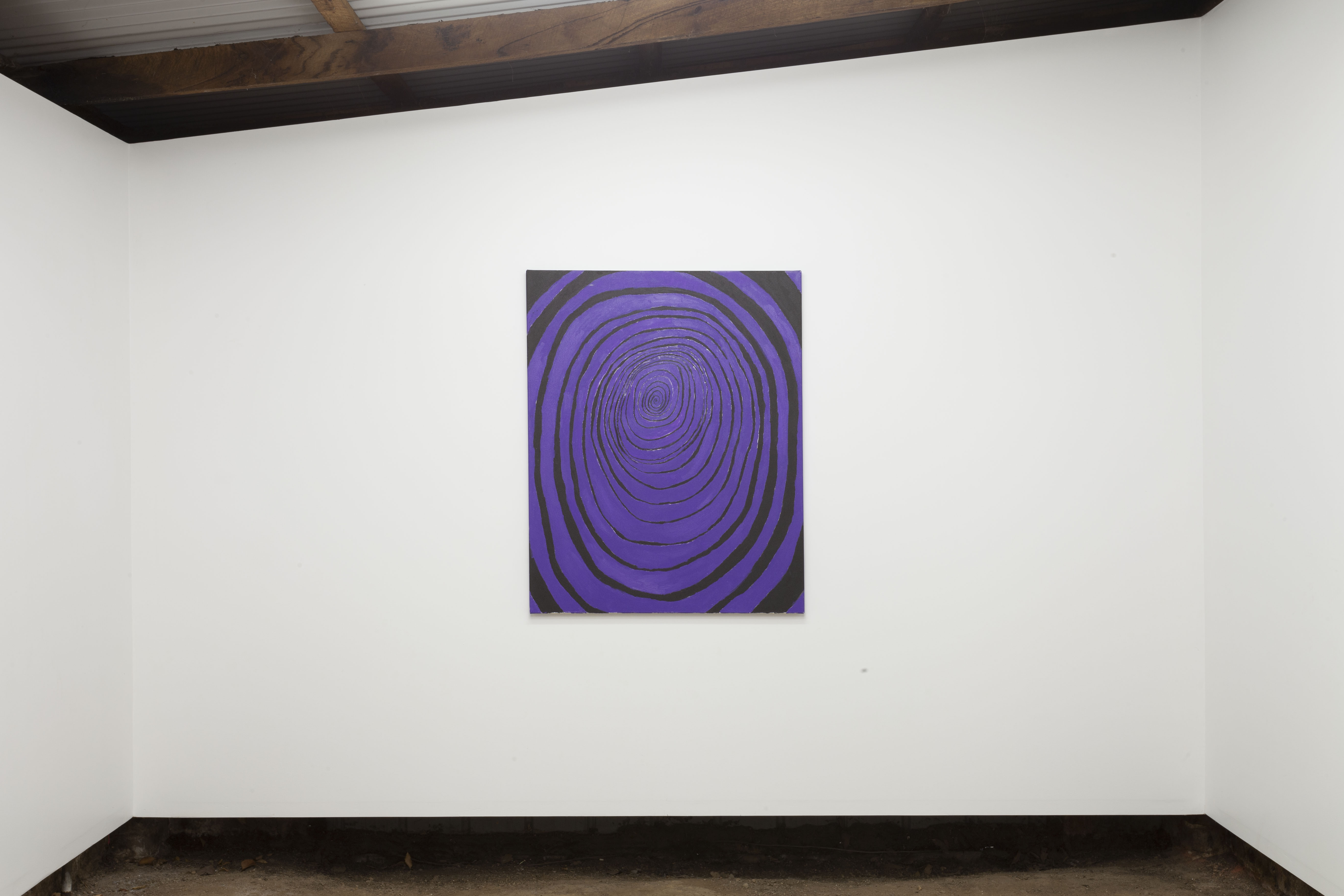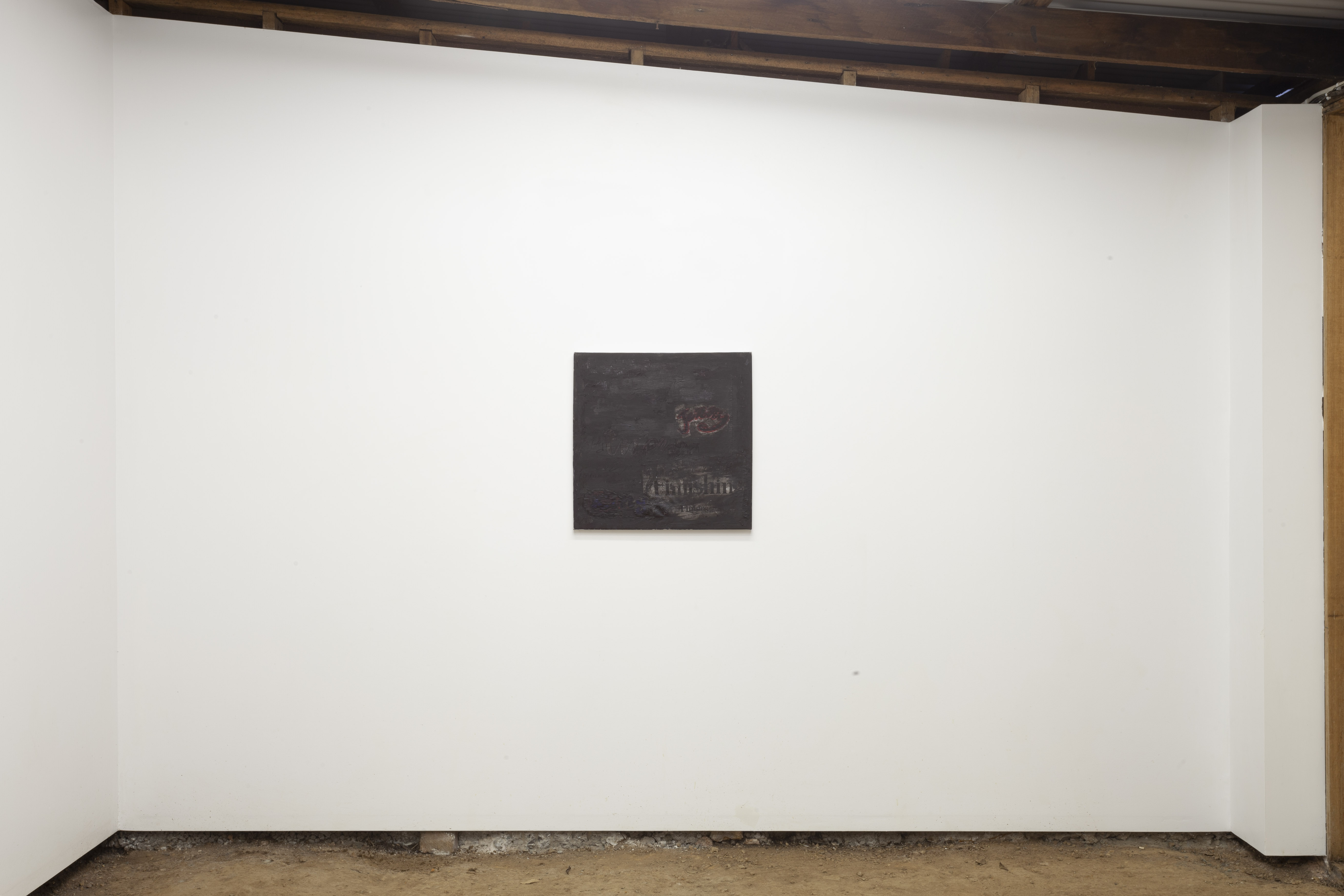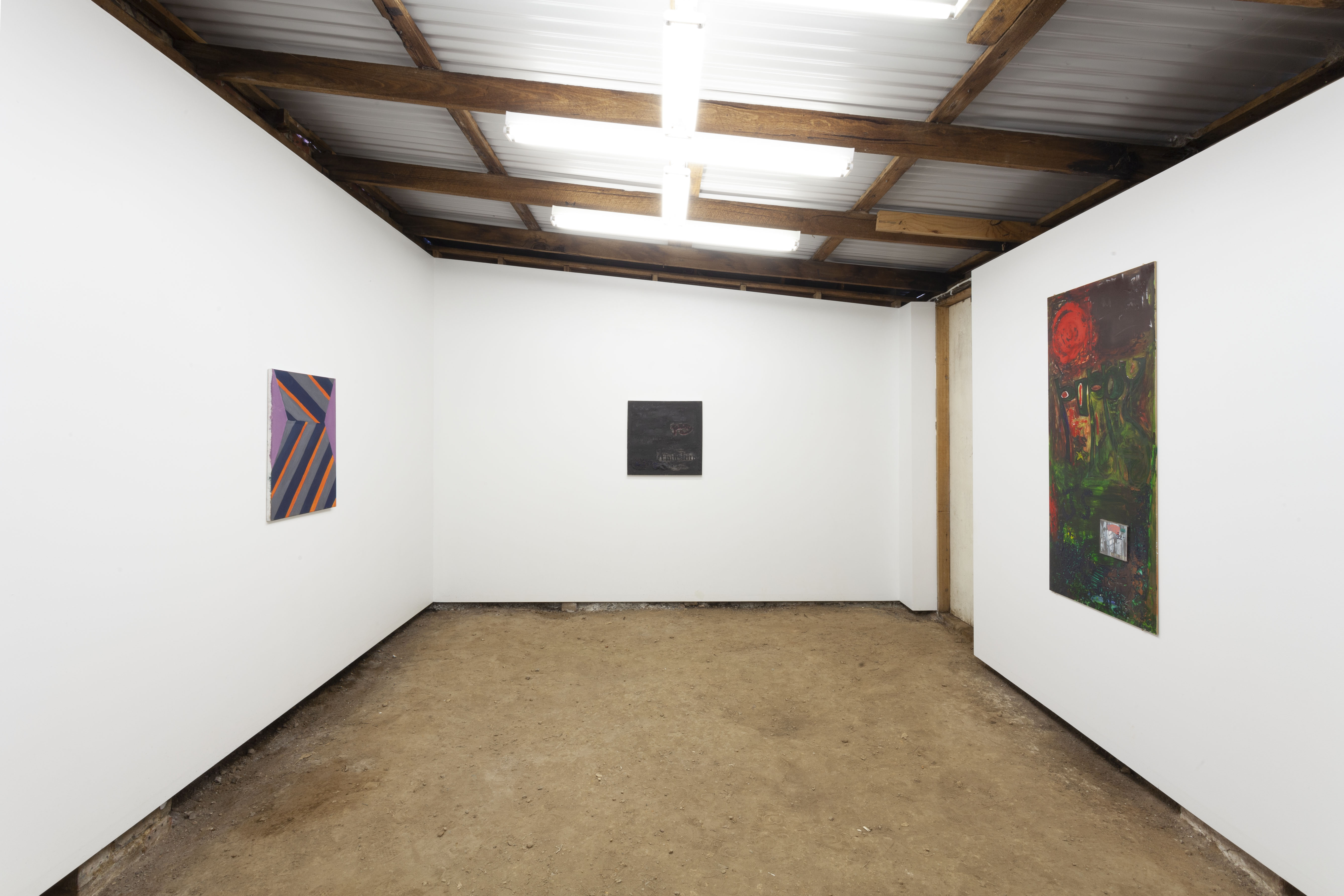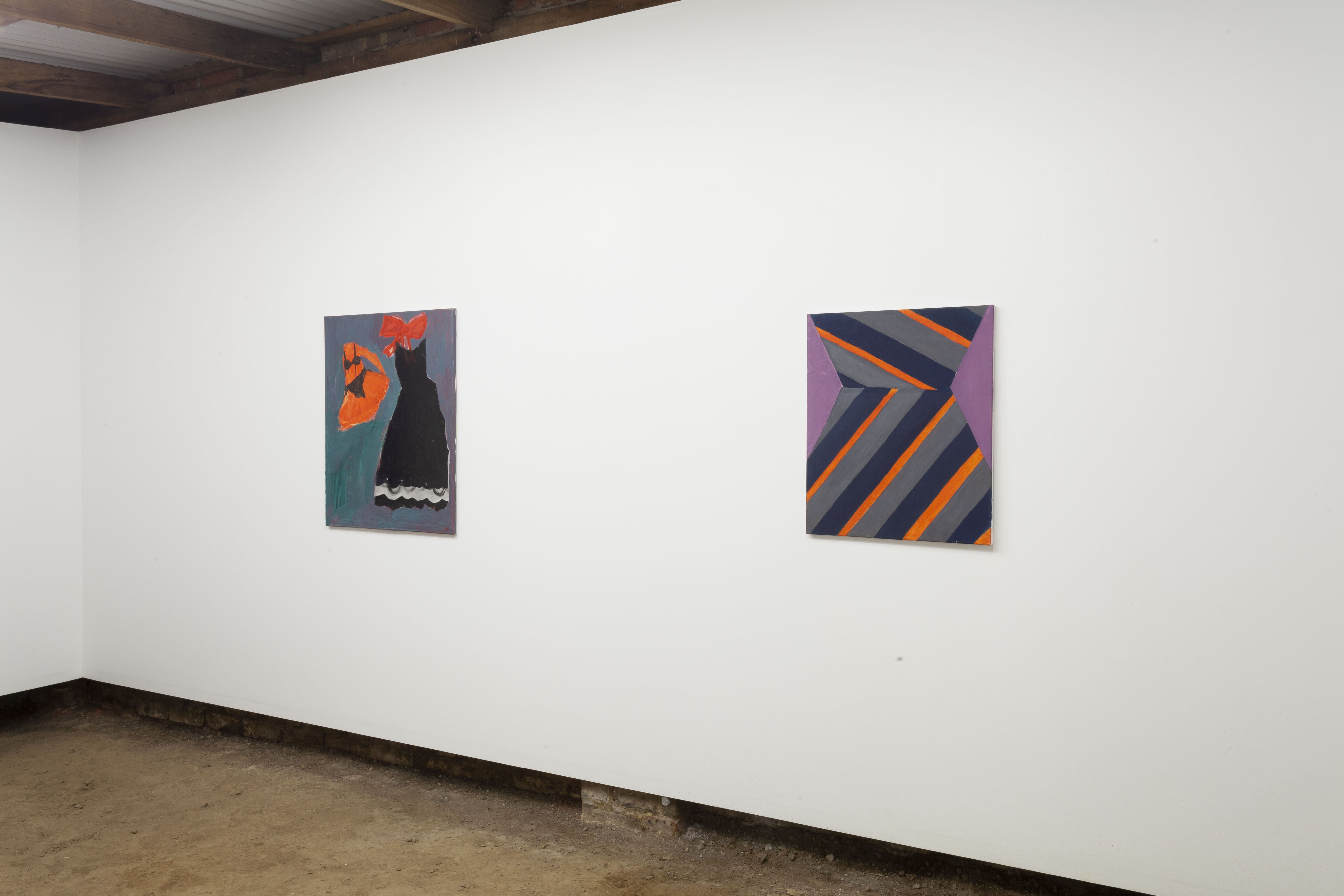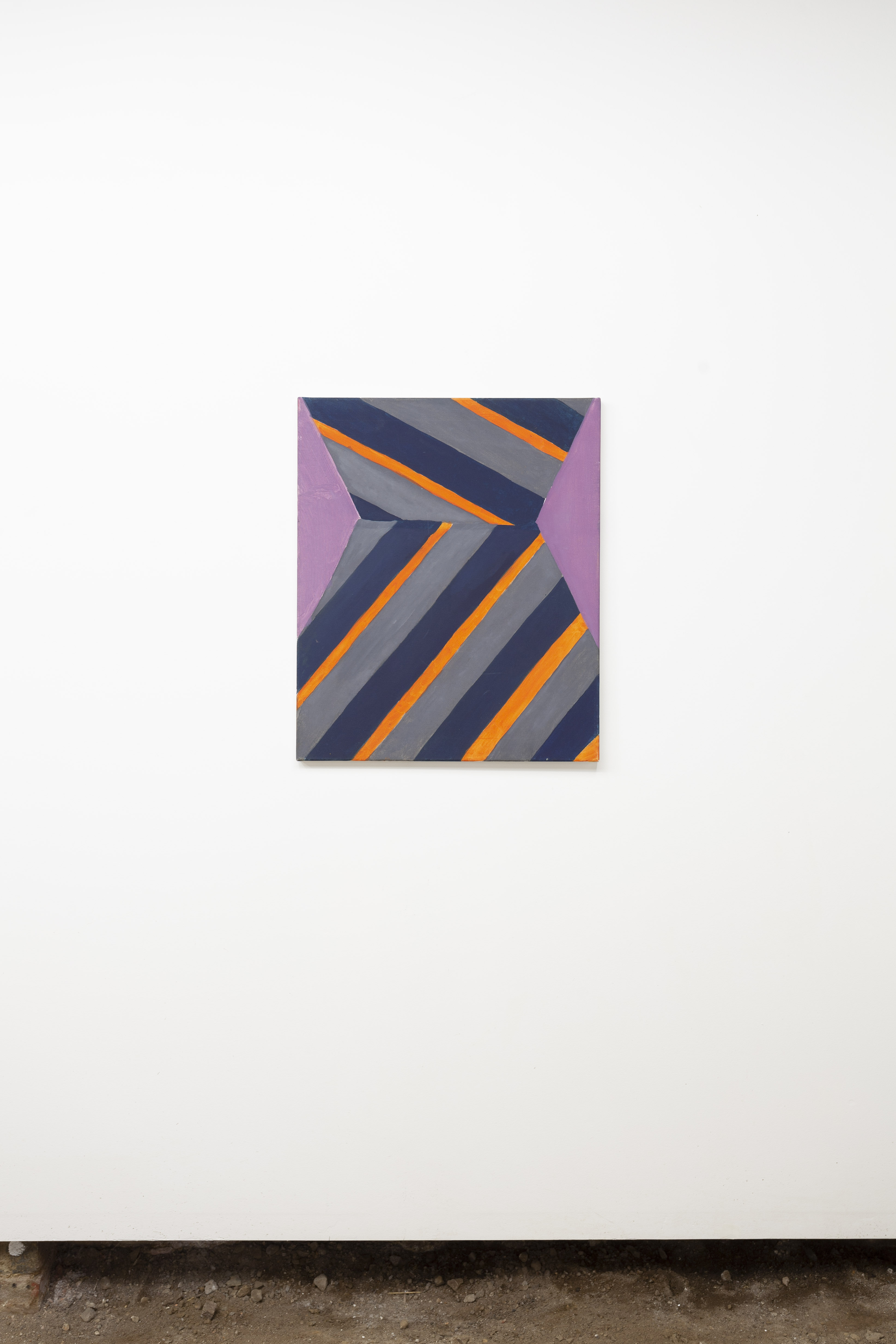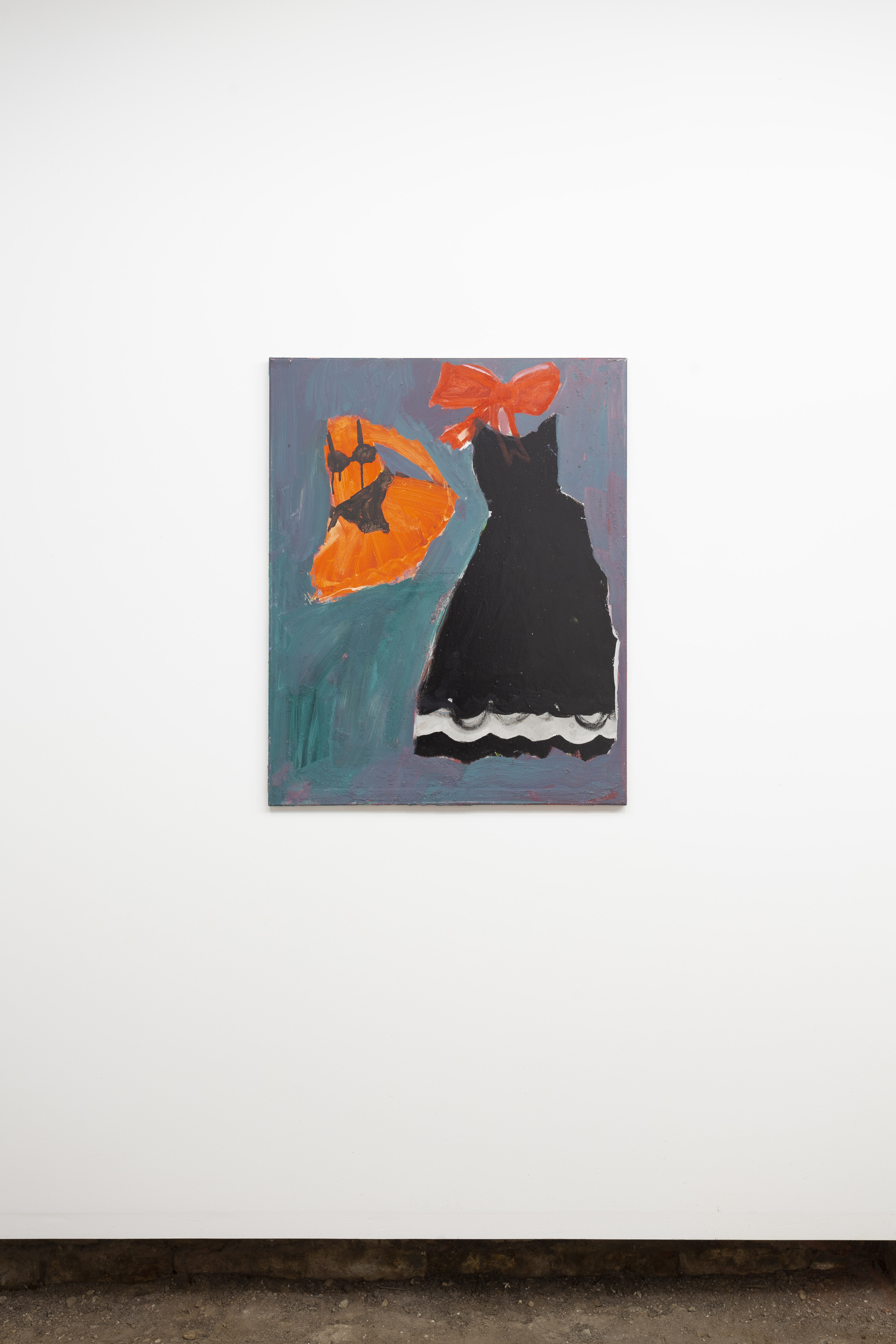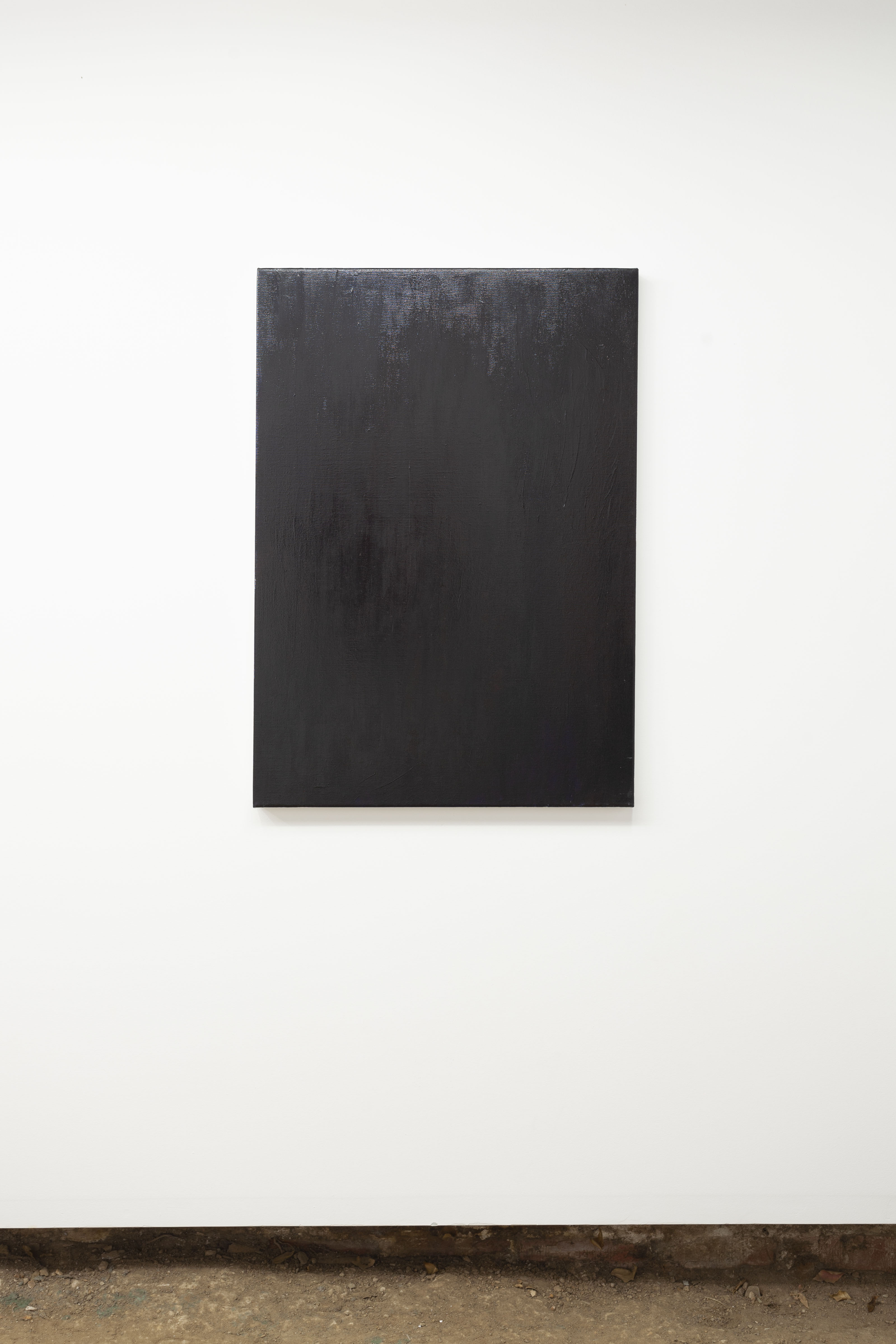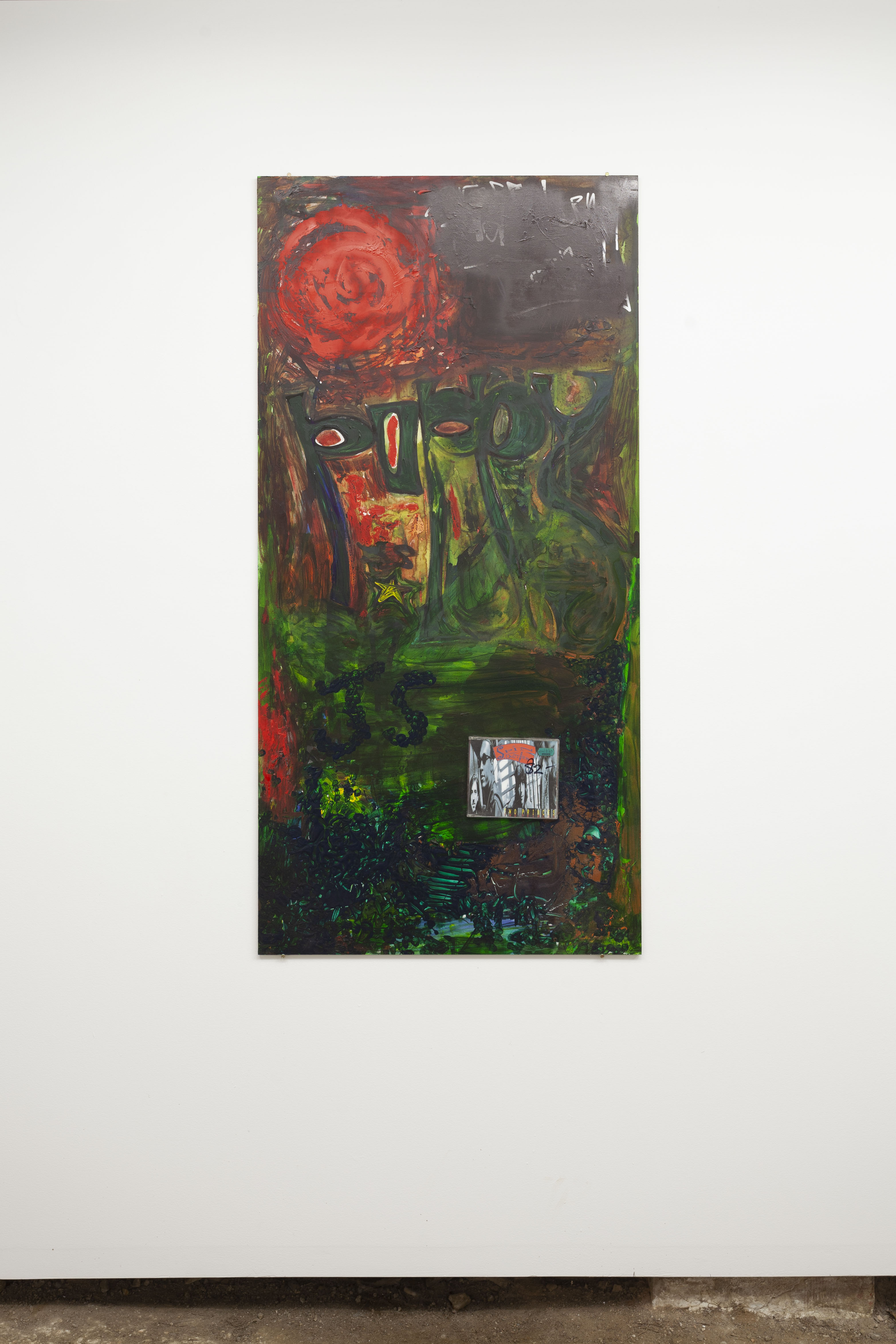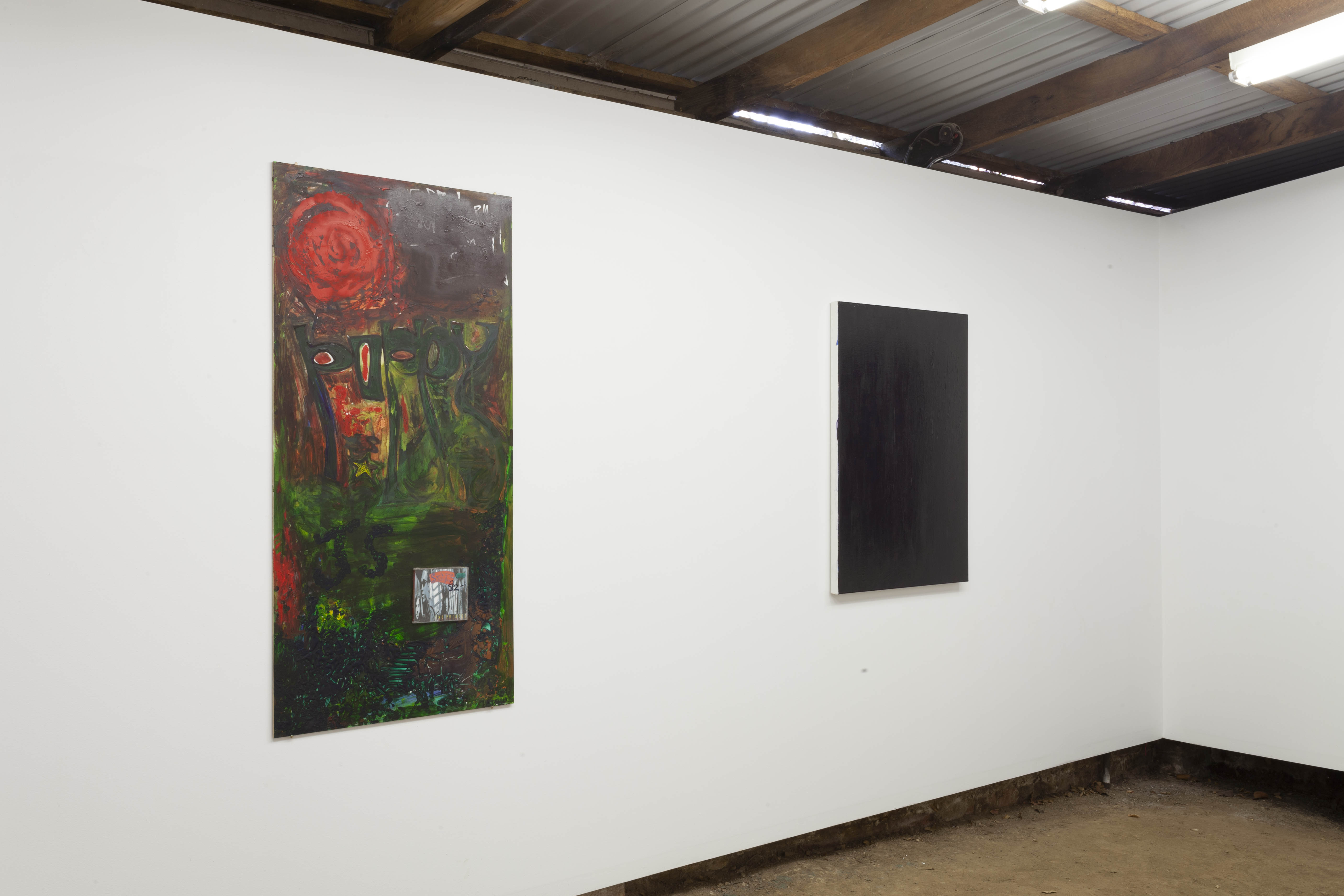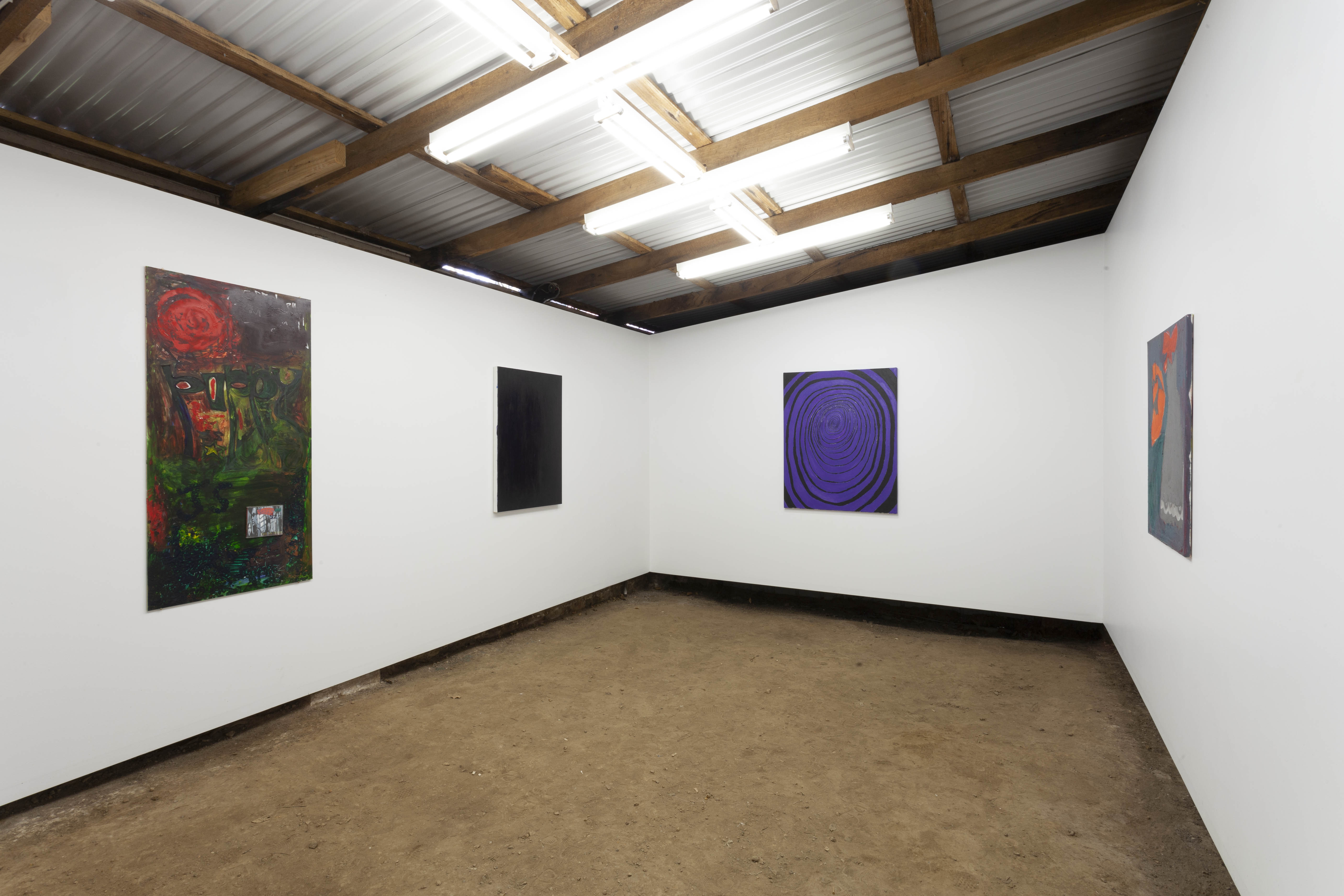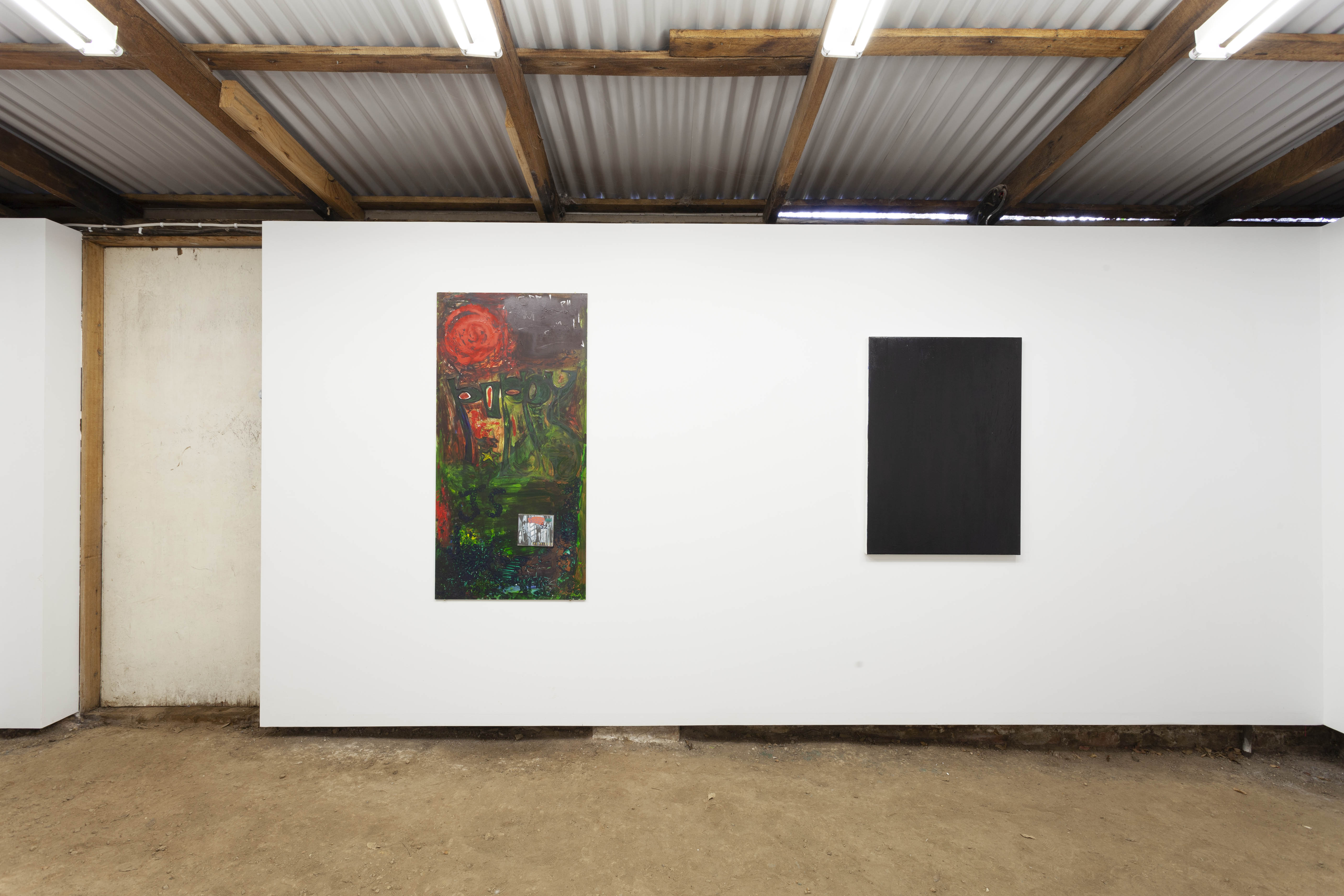 In order of appearance
Evie Poggioli, untitled, 2018
acrylic on canvas
Evie Poggioli, untitled, 2017
acrylic on canvas
Hana Earles, Jenny, 2018
pencil, ink, paper, acrylic on canvas
Grace Anderson, Wrench and Handler Wench, 2015
enamel, oil and acrylic on canvas
Hana Earles, Bruce Earles, 2020
oil on canvas
Alethea Everard, untitled, 2019
acrylic on mdf, cd case
…
Interview with Grace Anderson
GA: What r u up to this arve?
AV: I just did my washing, had a smoothie and was gonna go out for a walk in a bit.
GA: Omg health goth. Love it. Self care 101.
AV: Indeed.
GA: (laughs).
AV: Kinda self care but also just trying to stop eating junk and roast meat and gravy every night…
GA: That's amazing. You guys cook roasts a lot.
AV: It's meat galore. No readily available animal denied!
GA: How's your acid levels? Must be why you're feeling so productive.
AV: I think the Monster and V is why I'm so productive to be honest. Joking.
GA: You incellectual! I like a Mother… And a competitive bmx racer. Jaz has a bmx ramp in her backyard. She goes on it in her wheelchair.
AV: Really? The hotted up wheelchair?
GA: Yes!
AV: Have you donated any accessories for 'chair decoration?
GA: Some fluffy leopard fabric.
AV: From the fabric store or found?
GA: Found – I think it was an old dog blanky.
AV: Comfortable! In other news, is it true you painted your stolen Mother's wedding dress to be displayed in a show?
GA: Yes – and collaged on it. It was the skirt of the wedding dress. I still wear the inside mini dress part out 'n about.
AV: I like that the dress is still getting some use! What was collaged on it?
GA: Pictures from Marie Claire magazine. Very dumb.
AV: Isn't dumb the best working manner though? Often these painted-up things of yours are part of a larger group or cluster of works placed on the floor… Or is the dress a stand alone piece?
GA: It was part of an exhibition with lots of scattered stuff like substances and pickings and skirts.
AV: Pickings?
GA: Little bits left around. Detritus and such. Stuff that's left around and spreads over stuff.
AV: Stuff left around your house or working space?
GA: It's literally discarded stuff. Crumbs in the bottom of the rubbish bin.
AV: And substances which could perhaps be a slipping hazard?
GA: Yes very slippery and stuck. Opening an envelope and feathers going everywhere. Crap that gets on everything. Fluff on sticky fingers. I was gonna say glitter, but it's less theatrical. Glitter is very annoying to most people. I find it sorta therapeutic – if I don't think about the shards poisoning me.
AV: Well I know for a fact that people are very against glitter bombs – those contraptions sent through the mail as a prank.
GA: You could say that the installations are like that – a very rude prank.
AV: Well glitter is supposedly made from tiny bits of glass. I didn't realise such danger was involved.
GA: Agreed – I got very worried.
AV: Eyes sliced by glitter bits upon scratching an itch!
GA: Similar to pink eye.
AV: Do you think certain parts of your work are similar to pink eye?
GA: Pink eye is serious. Parts of my work are puffy. But – pink eye – it's very funny at the same time… Perhaps it is like that. The result is puffiness and people wondering 'What's she been up to?'
AV: These paintings for the show have no bits and bobs hanging from them. They are simply paintings. I've seen one of your large green floral messy paintings propped up by a cute little wheel, and then by itself on the wall. Another time I've seen the little tyre wheel thingy hung solo. Is this akin to spring cleaning or just a general 'spruce'?
GA: Often I reuse stuff, but generally I'm deep hoarding and find it hard to let go of things even if they are old and feel like they're holding my mind back – because it's all kinda part of the same thing…
AV: You mentioned you were obsessed with making burden paintings at the moment.
GA: These new works I've been making are extremely 2-D and not really 'propped' up by anything; for some reason, I've been holding back on accompaniments.
AV: A meal with no salt! No garnish!
GA: It's a bit boring really… but maybe that's why some of the subject matter and style of these paintings is kind of insane. They look fucked up. It's a bit sickening.
AV: Your recent painting Bunny: I promise will never use bondisands, 2020, appears kind of dark. It has a backroom feeling about it.
GA: The backroom idea is pretty on point. I think this particular imagery mixed with the darkness of the actual paint is an apt description. The under-painting is a woman on a pole; I put darker colours over the top like a mask or veil.
AV: In terms of being sickening, do you mean that it could physically be too much – too rich?
GA: Yes it's so much.
AV: It's caviar!
GA: Very over the top. Not subtle… Nowhere near minimal.
AV: Not a skerrick of minimal. Now – this baby blue star motif in the left hand corner of bunny painting, is that related to BMX? Possibly some early 2000s iconography?
GA: The star is from a perfume called Angel by Thierry Mugler – the fashion designer – who made it as part of his diffusion line. Basically it was just a merch line. Angel was the first perfume you could get refilled in these specific star-shaped bottles. But the smelling notes – tasting notes maybe – of the perfume were… Well there's a term in perfume talk where basically he wanted it to smell as if you were taking a chocolate mud cake into a strip club. There would be the overwhelming sense of the odours of cake and perfume and sluts. I'm pretty sure this information was part of the original press release for Angel.
AV: These newer paintings are leaning towards a more visible narrative. Or has it always been there – just painted and globbed over or performed in a more slap-dash manner?
GA: I think the narrative has always been there, but not all in the same abject way – which is maybe why I find these paintings perplexing at the moment. The older works of mine almost appeared to be choking on sugar. To be honest I've wanted to do figurative painting for ages.
AV: Did you start out doing figurative painting or was it something you never explored?
GA: I didn't start out doing figurative paintings – they were more abstract. I did monochromes, which are so strict. I did some monochromes with marine-grade enamel paint in 2014. But they were a bit sickening because they were too shiny.
AV: How long did you persevere with the monochromes before your paintings started getting messier and more crazed?
GA: Not long because I like to incorporate a lot of elements – there are lots of visual cues in my work and my attention span is small. I fall asleep on meth and dex – I must have ADD.
AV: Were there any particular artists or works you were looking at when doing these monochromes?
GA: Not really. Maybe I was just attempting to do minimalism. I was trying to be organised and do minimalism. And be neat. Extremely neat. But I couldn't nail the canvas onto the wall so I built some props for them to sit on.
AV: Couldn't nail it on straight you mean or…?
GA: Maybe my work is all about something that breaks and can't be fixed, so it is made into something different.
AV: And you were doing the minimal paintings when you were studying at VCA?
GA: I guess I was on some material tip when I was doing those.
AV: Material tip?
GA: The stuff I was using was really difficult to use and heavy. The pieces were bulky and in-the-way but I still was kind of making my installations as if they were paintings. As if they were all one.
AV: What artists in particular were you looking at around this time?
GA: I don't know – maybe Rothko, lol. Jessica Stockholder I was definitely looking at back then. Also Rebecca Warren. Fuck man, her sculptures are wild. They're fucked.
AV: Fucked how?
GA: They're big bulky heavy Crumb–esque drawings. So yuck.
AV: Do you like the drawings of Aline Kominsky-Crumb, Crumb's wife?
GA: Yes! I have a whole book on her.
AV: Are you more inclined toward Aline or Robert?
GA: Aline's characters are more reduced so I'm maybe more into her.
AV: Artists you look at currently?
GA: I need to get some more books – But, I'm looking at a Chris Martin book and another book called Kings Way.
AV: Tell me about the work you contributed to the 2017 group show 'Teenscape' at Schloss gallery run by Ida Ekblad?
GA: It was a bear cut from steel with two plastic hair clips on it. I used a special pen which was almost like drawing to cut out shapes on steel. The work was called 'Gabber Betty – unsexy.' I was thinking more about my music projects when I was making that work.
AV: Music – or… muzak?
GA: (laughs).
AV: Luke wanted to know: does music distract you from your art making and is that distraction important? Do you need a sound practice in order to do an art practice, or vice versa?
GA: I don't need either one to make the other, but I like either one as respite from the other.
AV: Tell Me about Betty.
GA: Betty – loosely – is my noise project. I don't want to say noise, but I could say noise. I guess the musical project carries different textures and a lot of different ideas. It's almost like expelling energy or something. Essentially it's put together – but at the same time not put together. It's just a mash up of stuff.
AV: You've been silent for a while with art shows and general visual output. Your Meow2 show didn't go ahead this year due to the pandemic; I think your last solo show in Melbourne was in 2017 at Punk Cafe.
GA: I was disinterested for a really long time… nothing was drawing me into making visual art. It's been nice to revisit stuff after quite awhile.
AV: So you feel like it was a bit of a dead zone or something?
GA: Yeah – definitely a dead zone. Not wanting to be involved at all. But still habitually wanting to make stuff, so my output was taking other forms like music or self-preseveration.
AV: Self-preservation?
GA: Getting my nails done, and botox.
AV: How do you think stripping has influenced your art practice?
GA: I didn't want to teach myself to become a grant writing cuck – so I started stripping instead. I've done it for so long. Initially, the aim was to compartmentalise it and not bring it into my life; it was just an aid for whatever I wanted to do. But I've learnt a lot of things and I can't unsee a lot of things… So it inevitably became part of my practice. I guess my environment is part of my process or work. I'm not striving to have stripping or sex work as a theme.
AV: (Looks over at a red baseball cap on window sill.) Is that a La Porchetta hat?
GA: Yes. [I got it from] This dude was standing over us one day in a house we were squatting in – his name was LINK – he was Deaf and extremely built. He must have parkoured over our roof to get in.
AV: Parkoured?
GA: Where people jump from building to building. They jump off a ledge and climb up a pipe to get into abandoned spaces.
AV: …So the hat?
GA: He was living in the La Porchetta next door. Upstairs was an old gym that smelled like rubber. There were people squatting in the pizza parlour and the gym upstairs. That was such a weird, wild time.
AV: Do you feel trapped by making art in Melbourne?
GA: I don't feel trapped – it's just mainly where the work goes and who takes it in. I've lost interest in smaller micro-community pats on the back. But I still have an urge to continue producing and making work. It's almost as if relationship dramas have controlled so much shit. I think I became too aware of my relationships and what it meant to be making work and showing stuff, that I didn't want to show anything anymore because then it meant an interaction. I think artists in Melbourne are aware they're not show ponies – they won't advertise themselves. If you're gonna talk about art on an international level, there's a baseline show-off expectation. In Melbourne, you can hide away or you can fall back into nothingness if you want. You could put it down to tall poppy syndrome, but that's such an obvious term to be thrown around that it's almost British. Like prudish. Like you don't wanna advertise what you are or what you do because people see that as causing your work to lose value or legitimacy.
AV: I remember a work of yours, maybe from your high-school days, called 'The Mole Pole.' It was quite tall, and very in-the-way, in the best possible way. A Tony Tuckson-esque messily painted maypole with ribbons attached to the top.
GA: I made 'The Mole Pole' after art school – just always loved that word. It sounds like a detention! Or you go there to get fucked near it.
AV: Mole pole reminds me of surf culture for some reason and most certainly the film Puberty Blues. Definitely things I think of in your work. 'Rack off Moll!' You've also used Sex Wax in your paintings, haven't you?
GA: Puberty Blues is probably the best movie really. I've used Sex Wax before yeah – it smells strongly of coconut. Also like fake tan. The Sex Wax is a pussy-pink colour.
AV: Pussy-pink pink eye colour?
GA: Perhaps. You can rub the wax on stuff and it gathers.
AV: Have you used Reef before? The sun oil?
GA: I use Reef to sunbake! It's a great accelerator. But I fake it now.
AV: Reef has the purple screw lid, right? With 70s retro graphics on the label?
GA: That's the one, it's always stayed the same. When I was younger, there was also a hair blonding product that was very popular. It's been discontinued now. It was called Sun In… These all go together, these things.
AV: Would you ever use any of these products as a medium?
GA: Yes! I actually might put some fake tan on the Bunny painting. The 'Sun In' bottle is pastel yellow, and features a blonde woman and some hibiscus flowers.
AV: Hibiscus flowers – I know you've painted these before. Or am I mistaken?
GA: Yes I've included them in some work before. I also wanted to add that when I mention 'burden paintings' earlier, I'm thinking about a burden in every way possible. The size must be so annoying you can't move it. If you were to give it to someone they would be smiling – but annoyed. Perhaps angered before being thankful… Then, the stuff in the paintings is not always easy on the eye, so it may just repulse them.
AV: Nauseating!
GA: I've always liked the idea of making works I feel are callous or yuck and are gonna fall apart, but are still charismatic.
AV: I like the idea of a charismatic work. So fetching upon introduction – but just you wait.
GA: They will show themselves eventually. But you will still want more.
AV: You exhibited a four-foot welded floor sculpture 'Scrap metal girl on vacay', 2006, in a group show at Punk Cafe in 2017 – made from scrap metal bits, chain mail and dressed up in an ill-fitting fabric bikini. The work looked like it packed some weight. It maybe fit in with what you would classify as a burdensome work. But unlike your newer burden works, it's something that could be left outside and forgotten about. These newer works don't have the same leave-outside-quality. They're indoors for good!
GA: I think that when you're making stuff out of scraps and general crap you can just leave the work outside and it becomes part of the outside. But something that's stretched on a canvas – it's got this stigma of a painting. Something that's respected and requires to be kept inside. I wanted to make something that was entirely finished within a rectangle or square – but that still reeks of a gross, chaotic, shit feeling. Mimicking something that would be left outside.
AV: In your 2017 exhibition Poseing at Sandy Brown, Berlin, who you are currently represented by, there were little sex wax-covered scraps thrown on the gallery walls like spit balls, mimicking a traditional wall paper trimming.
GA: Yes.
AV: What were those things? Towel bits? Painting rags?
GA: Beach towels and old hoodies. Tradie fluorescents.
AV: Tradie fluorescents as seen in the painting 'Downstairs Bedroom', 2017, which also includes sex wax, at your Sandy Brown show?
GA: Correct. Now I think of it – the outfit in that painting is loosely based on Puberty Blues and Fitness First.
AV: That's quite a gentle blend indeed. Is it Fitness First who distributes those free backpacks like promotional flyers? They're everywhere!
GA: Yes, yes… I kill – I kill for them. Lost all mine or broke them.
AV: Time to start hoarding – they could go out of circulation soon.
GA: I wish I had a two-by-two-metre canvas. That would be absurd. I have a flannie sheet that might do…
AV: So large is most certainly the future?
GA: Ummmm I want to keep burdening myself, so probably.
AV: You'll need to upgrade your van to a truck, and get your heavy vehicle license.

GA: Just strap them to the roof! All you need are some crank straps.

AV: Crank straps? The things tradies use?

GA: Yes, those! 'Ratchet' straps.

AV: Personally I'm only familiar with the tradie brand GRUNT.

GA: Love that brand.

…

Interview with Hana Earles

DH: What are the pieces of paper collaged to your 2019 work 'Jenny'?

HE: Those are all call centre sketches that I stuck on there.

DH: Did you free draw them? Or trace them? Then stick the separate pieces of paper to the canvas?

HE: I wrote the texts staring at word processors at the call centre. You can't use the internet on the computers, so I would just spend all day copying them onto recycling bin paper from some word processor that was on the computers… And then take the sketches home and stick them on the canvas, and then paint over with acrylic, oil and glue. I would have probably been working on that painting for a year or so, just bringing back sketches to my studio.

DH: Do you get bored at the call centre? Are your call-centre drawings there executed in a state of subconscious automatism?

HE: Yes, I was stationed at an automatic dialler calling random Australians to do surveys about smoking or something. I think multitasking can bring out an automatism that is unconscious: you put yourself in the zone of recording yourself as a subject. I don't know. I hate work that is research-based.

DH: The repeated black washes of paint on 'Jenny' partly obscure the words. But why did you brand it with the name Jenny?

HE: Cos Zac was doing a show at Jenny's, and I would hear her name. It's also the name of my high school friend who is now a drug dealer.

DH: And you made that work after you got back from overseas in 2019?

HE: Yes. It probably took a year to make, it was in my studio as a serviette for ages.

AV: You're essentially a US citizen. I've seen you flash that dual passport! You were in America June 2019 until early 2020ish? Why did you return to Melbourne?

HE: Yes, I moved around a lot when I was a young. I was in NYC last year trying to figure out what to do with my life. I came back for love and my gallery meow, I wanted happiness, stability and spiritual abundances, I needed to sort my head out. I had a messy break-up and culture had taken a turn. Paper was completely dead, fast fashion and decentralised online subcultures were like churning out aesthetic and political micro-movements. It's like everyone became a bedroom artist.

AV: Is Australia easier to live in?

HE: Melbourne is an anonymous prison, it's almost like it's cursed to be that way forever. But my boyfriend lives here! Melbourne feels void, like no one cares. Both have their good and bad sides. I love New York.

DH: … Does the 'Jenny' painting also say 'plaza'?

HE: Yeah.

AV: Were you much of a plaza dweller? Alone – or in hungry, depraved groups?

HE: Yes I love the mall, my mother is American and I love American culture: pop music, shopping, movies, magazines, beauty products, TV, the blogosphere. As a teenager, I would hang out at the mall. I was in an emo scene when I was a kid.

DH: What are the other words on the Jenny painting?

HE: I can't remember but I know it says 'kitty' on it somewhere and 'finishing'.

AV: When you write 'kitty' are you referencing Kittie or are you blindly scrawling out letters to the common house feline? Or perhaps the reference is more down the path of a sexually drenched baby tee logo?

HE: Kittie was actually on the cover of an old smut magazine a friend gave me; it said 'Kittie' in the exact same blue and red as the Marcel Duchamp heart! It came into my head while I was mindlessly scribbling.

AV: Personally I loved the merchandise that read 'Barf' in the Barbie font. In 2013, I saw a photo of a young woman in Barf socks, Barf baby tee, Barf skirt, Barf bucket hat, etc. Did you ever see this specific fashion endeavour? It was around the same time I first spotted the 'Better finger' vibrator, which is of course a spoof of the delicious Butter Finger American candy.

HE: BARF sounds TDF. I lamely used to love the street art writing of DADDY in the Barbie font on that rave store in Thornbury? They painted over it though.

AV: Yes, I remember the Daddy-centric mural in Thornbury. It was teamed with a larger-than-life Sailor Moon portrait. The store was within walking distance of Northcote Plaza. I noticed it was graffitied over a few times. 'THIS IMAGE IS… (harmful to women?)' Although I never entered the store, what I viewed when driving past was similar to the Miley Cyrus presentation at Art Basel in Miami Beach hosted by Jeffery Deitch. Too much, too many! Perhaps verging into the help-me-get-me-outta-here territory. I recall a very apparent yolk exterior. It stood out. You made a crude and mammoth soft egg sculpture for your solo Meow show. Care to explain? Was the work an exercise in gross over-indulgence?

HE: Yeah I made a big egg soft sculpture for my Meow show. I made it with my mom to like, try and repair our relationship. And I wanted to make a kind of homage to my part-time job assisting Kathy Temin. The egg is a fertility symbol and I wanted to make some uterine object, exploding mommy issues, filled with plastic beans. The egg was abstract and looked like a giant beanbag. I was using lots of little plastic things in my work at art school and I couldn't stop thinking about beanbag culture, video games, furniture with no edges. It's so womby. I love to make work focused on a wound. There's lots of sick girl artists who focus on recovery and fantasy and stuff. I don't think my work is like that. There's always some leaking hole at the centre. I don't think I do this consciously, I guess it's part of my female abjectness and the Australian abstract expressionist culture I can't escape.

AV: Often your paintings feature concealed menstrual blood or semen (for example, the striped paintings you exhibited at Meow in 2018). I know for a fact you're a fan of 'two girls one cup'. Have you gone any further with bodily scraps, or do you plan to?

HE: I love natural paint and the hysteria of using bodily fluids. It just never gets old! I love using make-up, tears, blood, cum… it's like postmodernism could never match the genius of natural excretion.

DH: Alex said you worked in an 'emo factory' at some point. Did you get this work because you were part of an emo scene? Were you working on a production line? Or was it warehouse pick-packing? What kind of products were distributed at this place?

HE Yeah I worked at an emo factory as a job for a few years pick-packing merchandise, band tee shirts. I worked at one of their festivals selling broken phone chargers for $40. It was HORRIBLE – fyre festival bad – the WORST music ever pedalled to teenagers, playing 24/7, in a tent with depressed boys with beanies and septum piercings. Gross! To answer your question, yes I was in an emo scene; I worked at stupid festivals and hung out with homeless kids in my teens. They were all very sweet and misunderstood. I think most of them are dead or normal now.

DH: The tie painting ('Bruce Earles', 2020) seems like a loose, vernacular type of geometric painting of the kind associated with artists like Raoul de Keyser or René Daniëls.

LS: The 'tie' painting also strikes me just as much a 'dress' painting. The form within the picture frame looks like a detail of some kitsch cocktail dress.

HE: In moments the paintings are clear and present themselves as finished, but mostly my working process is documenting my own hysteria.

AV: The tie painting seems kind of dykey.

HE: Recently, I have been painting not just out of boredom but also anxiety. Most of my paintings now are made as enlargements of smaller drawings, or unfinished drawings, characters, documents of mental and lifestyle illness. Like breaking out of the bedsheet frame…

DH: You're talking about the series of works you showed at Punk Cafe in 2017, onto which you scrawled various messages and notes in texta and pencil, then stretched and hung on the wall. Did your cartoon cum slut drawings also originate in your bedroom? I think I first saw a group of those works around that same time.

HE: Yeah my cum drawings came from my bedroom/studio. I would go on e hentai and copy different characters to practice drawing, and distract myself from thinking about boys or whatever my problems were at the time.

DH: Would you modify the appropriated images?

HE: Yeah I modified most of them. I'd fill my head with images and ideation and then draw to clear the cache.

DH: Do you still make these drawings?

HE: I still make these drawings. I like drawing because it's a technology that can easily bleed into other uses. People use pens to sign their name automatically, it makes promises, it's a hieroglyphic technology; and random bureaucratic procedures use drawing, etc. It's more automatic than painting, and it's frame is less specific to art. Recently I've been too depressed to draw; there's nothing to purge. I spend a lot of time writing on my blog and collecting images. I have mostly been painting.

DH: We've been speaking about your drawings based on found images; earlier, you spoke about incorporating collage elements onto canvases, then adding painted layers over the top. Did the abstract paintings you exhibited at Meow in 2019 also start from existing source material?

HE: Yes well I think of painting and drawing as kind of stages in the same cycle of practice. I just clip out certain stages of the cycle and present it as a work. The abstractions were initially colour tests for other works. I also wanted to make a flag. It's a big trend on deviantart. That's kind of similar to making swatches or whatever.

AV: Have you seen the large Constanze Zikos' public sculpture at Highpoint? He might have also made a flag as a bed-spread work, or something resembling that which connects to your bedroom sheets and some kind of Melbourne idea of bedroom art.

HE: For a while, the bedroom felt the most creative place you could be. I loved having a bedroom studio; you could wake up and just be greeted with your creation. It never gives u a break from thinking about it. It's like having a child.

AV: Yes a creation that you are able to throw out the window if need be. Or call ahead for council hard rubbish pick up!

DH: Are there other reasons to make a flag? Earlier you were talking about colour experiments. The abstraction(s) you showed at Neon Parc in 2018 are strongly reminiscent of certain Isa Genzken works.

HE: You're right. The eyeball painting was stolen from Isa's spray-paint works. I love Isa Genzken, especially her collage work. For the Neon Parc work ('Public Painting', 2018), I handpainted the same shapes instead of stencilling.

DH: Did your glitter painting 'Chloe Sevigny's McFeminist Psychiatrist Hospital' (2018) also start out as a colour test? The overly thick stretcher bars of that work appear to be custom-made from laminated chipboard with cross bar bracing. It seems like you invested some effort into making these stretchers.

HE: The frame was actually part of an old storage unit I found in a dumpster. It's painted that public school white. I kept it in my studio for months, because I liked the size and it kept me company while I was reading fucking object-oriented ontology. The title is taken from my blogspot which I had organised in my head as a script for artworks.

DH: That painting elicits multiple, irreconcilable readings: children's smear painting, ab ex, grunge painting, a night sky… But the work was originally presented in the context of an installation at your Monash grad show in 2018. Could you describe the other elements in that presentation? How did this initial context of display affect how it was read?

HE: There was a video on a Gumtree-bought computer monitor of Tash (Natasha Havir-Smith) in a 7/11 just being awkward, the glitter painting with big shitty stage lights illuminating it, my desk I used with my notes all over it. Around that time, I got obsessed with Lars von Trier and I wanted to make some kind of ominous furniture. I became interested in set design and reading about Brecht's Verfremdungseffekt, or distancing effect. I remember reading one of his essays, 'Alienation effects in Chinese Acting', which discusses the Chinese theatrical convention of actors watching themselves perform, and how they represent their feelings in symbols rather than masked it in performance. 'A Touch of Sin' is a recent Chinese movie that is cool to watch about this. I was looking at Mike Kelley's 'Extracurricular Activity Projective Reconstruction #1 (Domestic Scene)' He had this 'object of obsession' in a performance that was really stuck in my head… it kind of warped into a painting the more I thought about it. In a similar way, I wanted an object to be an actor, painting.

DH: You're talking about the exhibition as a theatrical scene, and the creation of a character or persona in and through that scene. But I suppose making art is also a means of self-presentation, subjectivation.

HE: Yes I kinda see it like Mary Kelley: it's like making a baby, it's like a selfie in the eyes of god. Her 'Post-Partum Document' documents the formation of a being that has literally emerged from her body. It's the ultimate narcissism.

AV: You organised a night of performances at Westspace in 2017 ('Arthole', 9 August) in the style of spoken word or confessional style poetry. Rachel Slurr read from a blogspot entry of a girl sexualising maggot dumpster activity from an animal cage via skype call-in; Aurelia Guo sent poetry video readings; Military position read out prose and urinated in a bucket live. (Betty also did a live set.?) Did you also perform under your moniker 'Baby Gravy'?

HE: Yes this was one of my favourite nights even though only around fifteen people showed up. Rachel Slurr, a good friend, did a performance where she read maggot girl from a dog cage and sniffed keyboard duster. Afterwards she sent me a video of her throwing up into a bucket. Actually we have a tape together called Bulimia… no wait that was my band with Tommy and stuff… I don't know I can't remember honestly. Grace Anderson did a Mastisis performance, Aurelia Guo sent in some poetry, and Military Position scrawled notes onto paper and pissed on them. And I did Baby Gravy. I wanted to do a night of music and screenings in a gallery… Patrice who was curating at the time gave me the gallery for the night, and the interns had to sit through the whole thing. Heaps of people left halfway through. lool

DH: We have already referenced your exhibition at Meow, a Melbourne gallery you founded with Calum Lockey and Brennan Olver in 2018. What motivated you to start the gallery? It is part of a recent lineage of Melbourne artist-run spaces (Flake, Punk, Sui, Guzzler). How does Meow (2018-2019), and Meow2 (2020-ongoing) differ from other Melbourne spaces?
HE: Meow is still happening, we just have to close it for a year or whatever until we're freed from Covid purgatory. We started the gallery basically because we just had nothing to do. We wanted to do a gallery that was cute and like try to get laid because we were all single and approaching burnout status. So we just meow in my house because it was a really beaten-down shack with tiles in every room and a smashed glass door which was perfect for a gallery in Melbourne! The neighbours fucking HATED us… we lived in a really booji neighbourhood but the rent was cheap because the house was so gross. The neighbours must have called the cops on us at least twenty times, they were such haters! Graf guys stole us heaps of booze on opening night and we would just film everyone like they were fucking Edie Sedgewick or something! It's kind of sad like all the Sui, Punk and Meow crew aren't even friends anymore because of malignant narcissism or something. Punk Cafe is where I had my first show and where I met a lot of my friends and my first boyfriend, I loved showing there it had heaps of really cool shows

AV: You run a podcast with Calum and Brennan: Meow FM. What was your main influence for starting this podcast?

HE: The podcast is for staving off existential dread.

…

Interview with Alethea Everard

DH: How were the paintings for your recent exhibition at Meow2 created?

AE: Some of the works were started years ago, while I was studying at VCA. I have a lot of boards. I started them all. Caesar came over for a few sessions.

DH: What was Caesar's contribution to the exhibition? How would you describe the artistic division of labour?

AE: I don't know what our relationship is yet. I was sick of doing things on my own all the time. Let's say symbiotic.

DH: But what was Caesar's involvement in the production of specific works?

AE: Some blending. We'd have to go through the individual works and I say he did this and he did that bit.

DH: Do you want to talk about the recurrence of forms of 'street art' – tags, stencils – in these recent paintings?

AE: No.

DH: Why not? Don't you have anything to say about it?! There are tags and stencils all over your recent paintings.

AE: They are not really tags – it's just writing, a handstyle. Because my hand has absorbed that. In Melbourne there are council-funded workshops that teach kids to make street art, tags and stencils… Artplay, Signal or whatever. Or before that, the hype of it in the 2000s. When I was a kid, around ten years old, around 2004, I made stickers, paste-ups and stencils, and taking photographs of pieces. I would copy them into my black book. I thought of some joke names, like a lot of people do. My use of graffiti gestures toward a certain moment in Melbourne street art – when the city council started endorsing it. Melbourne Stencil Festival, Hosier Lane, etc. My work is not street art or graffiti trying to become gallery art or contemporary art… or Stieg Pierson's Realistic copying of graffiti. In fact, it probably actually just makes sense to talk about it as art.

DH: Through incorporating calligraphic elements, your work invokes forms that have been around a lot longer than so-called street art.

AE: The term graffiti can refer to its modern day existence, but it can also refer to cave paintings and the origin of art as well. In any case, my work not only references graffiti; it's also a form of bastardised conceptual art or pop art, in the sense that my work organises data and creates systems.

DH: It's interesting that you bring up conceptual art. You reference Duchamp, the 'father' of conceptual art, in a work from 2014. The work – a constructed painting – consists of readymade wooden elements stuck onto a grey plywood board: a maroon V-shape in the upper left, and six identical key symbols below. This reminds me of Duchamp's 'The Bride Stripped Bare By Her Bachelors'… the V as the bride, and the two columns of keys, i.e., the bachelor machine, below. What is the relation of this work to the mechanical eroticism of Duchamp, or even Picabia?

AE: I remember Picabia's 'A Very Rare Picture of Earth' which I saw in Venice. I liked that a lot. And of course I looked at The Large Glass in undergrad. I think it's possible to recognise certain sexual references in that piece, but there was no elaborate theory or narrative around it. The objects were just ready to hand. It's just what happens creating, being reproductory. The work is a bare, physical abstraction of sex, a dumb beginner's guide to trad sex. Also the repetition of keys is not necessarily the multiple dicks of 'Her Bachelors'. It also references the repetition of the thrust itself y'know dot dot dot… Also I was looking at Lee Lozano drawings again recently.

DH: Other works by Duchamp employ signing his work with an alias, a fictional autograph, which suggests a further parallel between your more recent paintings of 'poppy'.

AE:… For the Meow2 exhibition I originally made a series of image-board works. There are organisations of different images, for example pictures of poppy, and ayahuasca.

DH: Have you taken that drug?

AE: No. Also you can't just 'take it'.

AE: Metaphors for interconnection. Not just metaphor but actual. But also with grids included.

DH: This sounds acid-y.

AE: You take one word and keep repeating it. When you keep repeating it, it turns into an abstract cloud or galaxy.

DH: But just because things are interconnected doesn't mean that they are meaningful. Think of the internet. You can find anything, find rhizomatic connections between things, but they don't hold value or meaning.

AE: Ew 'rhizomatic'.

DH: In her review of your exhibition, Audrey Schmidt connects your work to the Situationists. She argues that your work 'evoke[s] one of their founding principles – the notion of "psychogeography", which entails both the dissolution of the art/life distinction and an exploration of the effects of geographically-determined milieus'. According to Audrey, this is exemplified by your recurring, layered 'iconology' – 'the recurring Citywide logo (westside waste management) and A1 (the Brunswick bakery that is an institution in its own right) to the North Melbourne Primary School logo (Everard's old school, less than two kilometres away) and the State Government catchphrase: "Victoria—The Place to Be."').

AE: I'm not trying to do psychogeography. It's actually just art functioning in a traditional folkloric meaning-making way. Local folkloric. Using art in its traditional folkloric function… (clenches fists).

DH: What was your response to this attempt to foreground the immediate social and sub-cultural context of your work?

AE: I think "social context" is pretty much totally assumed, especially between me and Caesar. But again, there's the actual social context and then there's "social context"… The Situationists are an obvious go-to to contextualise the work and I respect that, and I know about them, but it also misses the point. I've literally been walking around the same 5 kilometre square area my entire life. And then the gallery ended up finding a place in North Melbourne. Not that all my references are to North Melbourne. Like I get it needs to make some connection to Theory and the cloud of human thought above or whatever for Memo, and that's in my mind as well, but my work is actually not theoretical at all. It's really dry. It doesn't change. It is actually just what it is. But the whole kick is from the fact that the self-evident nature of my work is in dialogue with the use of – Local Area Art – to produce something abstract everyone can use. But then that misses the point again … because the specificity of the language keeps on changing.

DH: What do you mean by the 'specificity of the language'?

AE: Between here and 'here'.

DH: In her Memo review, Audrey described your opening as though it was some kind of theatrical performance. 'In a crisp white shirt, slim-fit black pants and understated smoky eye, Everard looked the part.' Did you spend much time planning your outfit?

AE: I wanted to look clean, professional, and responsible. I like to look good. I didn't think about it much, that's just how I like to feel. Weren't you slumped in a corner or something?

DH: That's how I was portrayed in Audrey's review, which was in equal parts art criticism, ethnography, and society column. That's what she was going for at least. Her opinion counts, but is she always a reliable source? One thing the review didn't mention is the connection of your recent work to the genre of so-called bad painting. This connection is evident in some of your earlier works. 'Amuser E' (2018) is a low-res copy of Marcel Broodthaers' 'Amuser ou Le plus beau tableau du monde' ('To entertain' or 'The most beautiful painting in the world', 1967–70/1971–73), a painting you discovered through an Isabelle Graw article in Texte zur Kunst, where it is identified as a significant yet overlooked instance of bad painting. Graw observes that Broodthaers 'did not usually paint on his canvases; rather, he coated them with photographic emulsion to print them with words and letters'. This makes 'Amuser' an anomaly within his oeuvre, because its most striking feature is its conspicuously slathered white paint. Why did you render the painterly, textured surface of Broodthaers' image as a photographic print?

AE: Cos it was easier lol; it seemed smart. I like passing over the word in my mind. Because printing the one painting he did again as a print jacks it off again. Another throwie…

DH: Is your painting exactly the same shape as the original?

AE: No. I made it to be the same dimensions as this other square painting I printed of a BBC jungle mixtape from my first show at Meow.

DH: Graw identifies Broodthaers' work as a significant yet overlooked instance of bad painting. There has been a lot of talk about this phenomenon in the last decade or so. Why choose an artwork that Graw regards as an icon of bad painting as the basis for your own work? Does your 'painting' further travesty the once-dignified tradition of painting? Does it participate in this culture of painting-as-joke?

AE: 'Amuser' was made in relation to other works, as one element within a larger installation; it's pretty sundry.

DH: It almost seems like 'bad painting' in another sense… Your 'Amuser' is bad-painting-by-numbers. It's almost an overly obvious reference, a direct appropriation of a work that has been legitimated by one of the leading critics and historians responsible for the institutionalisation of the very term 'bad painting'.

AE: I was like, fuck it, just print the 'Amuser' painting, because you can do that now. I was also thinking about my own name, Alethea E, and Alfred E – incorporating it into my own symbology or something. It's a very light structure. I don't care about Isabelle Graw that much, that's just how I came across the work. Probably Calum Lockey mentioned it or something. Anyway Evie Poggioli owns it now, and Evie takes the E.

DH: One of your recent paintings from earlier this year has the word 'guzzler' written all over it. This is an obvious reference to the gallery. When I asked you about it, you said you wanted to make 'guzzler art'. What does this mean?

AE: Some Jean Dubuffet shit.

DH: Like r u talking about primitivism, or feigned primitivism?

AE: I don't really like your questions.

DH: Ok.

AE: All these references to art history… I'm not really interested in these stories now.

DH: But what about Australian art history? Do you look much at Australian art? The palette and the painterliness of your 'poppy' painting from 2019, and your generally crusty picture surfaces, reminds me a bit of certain works by Antipodean painters like Albert Tucker and Arthur Boyd.
AE: Yeah, I know about their work, but I haven't really looked at it much, it's never really interested me. I never liked the name 'Angry Penguins'… I don't know. I found an Elwyn Lynn book in the library. Some aspects of his work kind of align with my own practice: the collaging of everyday materials and textured painted surfaces. I haven't looked at Australian too much recently.
DH: You don't look at Australian art much?
AE: I always liked Tracy Moffatt though. And actually Sidney Nolan. I've definitely absorbed a lot of 'Australian art' and have just 'looked' at a lot of different things really, and spent a lot of time camping and going places growing up and just living here with the rest of us. I suppose my work reflects that.
…
Interview with Evie Poggioli
DH: I want to ask you some questions about your heart paintings from 2016. The heart symbolises love, romance, Valentine's Day, etc. Yet the obviousness and ubiquitousness of the symbol strangely empties out its meaning. The heart is a cliche, a sign of a sign.
EP: The subject matter of hearts is always going to be somehow romantic, even though hearts are everywhere. If it's all I paint, it becomes too saturated for the symbol to mean anything anymore. Ultimately, I think the heart is something for me to project onto.
DH: What do you mean by 'project onto'? Are you talking about the heart as a vehicle or medium for self-expression?
EP: Yeah I suppose as a vehicle: I am a heart and this is how I feel… But also I guess the hearts can relate to each other.
DH: One painting shows several hearts in loose, curling outlines reminiscent of chains or telephone cords. This combination makes me think of teen girl drama (gossip, emotions, crushes, confessions, drawings in diaries).
EP: Yeah sometimes in high school I would doodle instead of listening to class. I also wrote poems about hearts a lot in art school. Quotes from romcoms and pop culture, colloquialisms like 'heart in a cage'… these are the kind of semantic associations that informed the heart paintings.
DH: The heart as an expressive mark, a vehicle to project onto… Is this the romantic idea of the authentic artist pouring themselves into their work? Do you think painting can sometimes achieve this?
EP: Yeah I kind of resent that romantic idea of authenticity but expressing something is fun I guess. I think I like expressing this ugliness because of the need to be blindly positive all the time, this feminine virtue or something.
DH: Do you mean in terms of how you make artworks? Or how you conduct yourself in everyday life too?
EP: Both.
DH: In what sense are the heart paintings ugly? Because in some ways, they are kind of elegant and decorative. They could also be kind of kitsch. The impasto surface of certain works in this series, for example, have a generic painterly style; some wouldn't look out of place in a cafe or homewares shop.
EP: I always found that globby oil paint impasto disgusting, and enjoy dirtying the canvas somehow. When I was at VCA birds would sometimes shit on them, not sure how they got into the studios. But yeah I think that is also a reason for heart as subject matter, you can buy these mass produced heart paintings from homewares shops, and it can be kind of an inauthentic symbol of love.
DH: But then did you clean the shit off?
EP: Painted over it.
DH: Are the heart paintings not also decorative and pleasant?
EP: Yeah but I think it's a kind of fake pleasant.
DH: Their directness and emotionality also reminds me of Tracy Emin or something.
EP: I think I can't take myself seriously as a painter because painting is so funny and dumb. Or I'm just a kid painting hearts or something.
DH: What works were you making before the heart paintings?
EP: Emo smaller heart paintings and text work.
DH: What did the texts say?
EP: Phrases and sayings I'd get from tv shows such as Gossip Girl, Sopranos; anything I would watch.
DH: Emo painting… the knife-scratching, or scarification, of a 2016 red heart work could be seen in this way. Are the purple spiral painting (2017) and the black monochrome (2018) also emo?
EP: I think they were more psycho.
DH: Do you mean more depressive?
EP: Psycho for the spiral painting because I was so paranoid that year.
DH: Paranoid about what?
EP: People
DH: What was the relationship between the black painting – the only non-representational work in your Suicidal Oil Piglet show – and the other paintings in that show?
EP: I think the black painting is emptiness, or maybe lack of heart? There weren't any hearts in that show.
DH: But also the bed – sleep, deprivation of consciousness – states of semi or unconscious.
EP: Yeah I mean blacking out in the literal sense too.
DH: By blacking out do you mean sleep?
EP: Mostly.
DH: But also Malevich, the void.
EP: Yeah Malevich. Didn't they scan Black Square and underneath there were swastikas or something? Malevich was maybe self-censoring, and was like 'fuck this I can't make what I want' and painted over it in black and people loved it anyway.
DH: But is there also a kind of self-censorship in your works too? Do you think there is a kind of self-censorship involved in the making of all art?
EP: I think self-censorship in art is kind of essential for me at least, the work becomes too much about something in particular and embarrassing.
DH: The idea of the modernist void also makes me think back to Courbet's The Origin of the World. However, that work is about the vagina as a source or origin of the world, rather than a withdrawal from the world.
EP: I see my work as more of a withdrawal.
DH: Speaking of art historical precedents, the purple vortex and red lattice paintings from 2018 remind me of certain Indigenous central desert paintings – do you look at Indigenous art?
EP: Yeah I guess I have looked at a bit.
DH: Have you looked much at Emily Kngwarreye's work?
EP: Yeah I admire the expressiveness of her work. I think my work is also maybe similar to Kusama's webby paintings. We watched her documentary last night; she's kind of turbo.
DH: Maybe there's a relationship between Kusama's dot paintings, and your net and vortex compositions? In both, irregular lattices and centripetal forms evoke the infinite extension of the picture beyond its borders; at the same time, these forms also reiterate the silhouette of the canvas. Your red lattice work also, I suppose, imperfectly mimics the canvas weave of the picture support.
EP: I don't disagree with you. Yeah the web is borderless, which is analogous to her idea of the dots being infinite I suppose, and her mirrored infinity installations. I relate to her obsessiveness.

DH: Does your art sometimes serve a therapeutic function?

EP: I think so, but I don't like admitting that. But I read art therapy books. Monash has a good collection.

DH: The issue of the therapeutic function of art brings us back to our discussion of paintings as 'emo', 'psycho', 'paranoid' etc. You were speaking about artworks, I suppose, as external embodiments of subjective states and experiences.

EP: Yeah true. Maybe I don't know how to talk about my art without being evasive.

…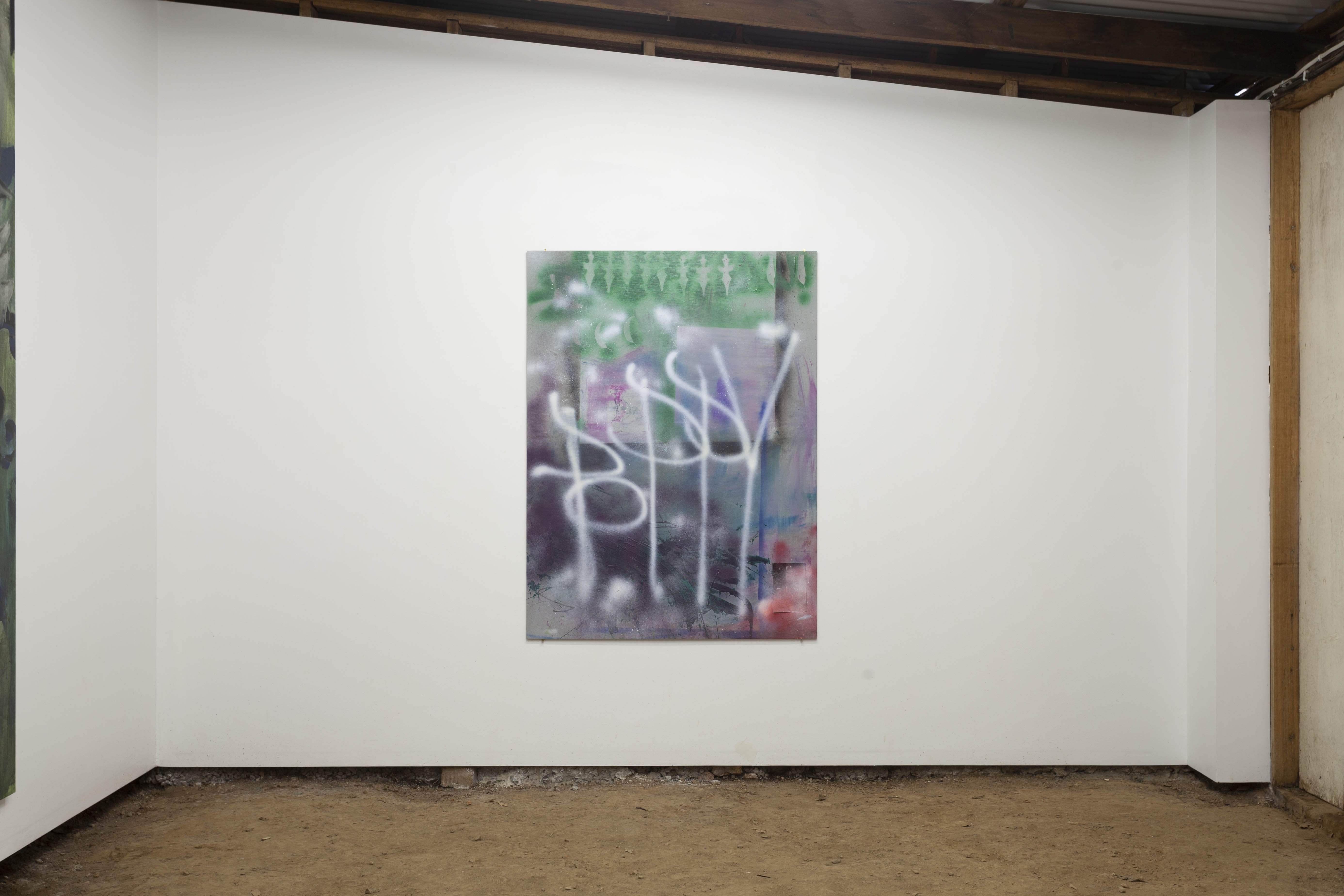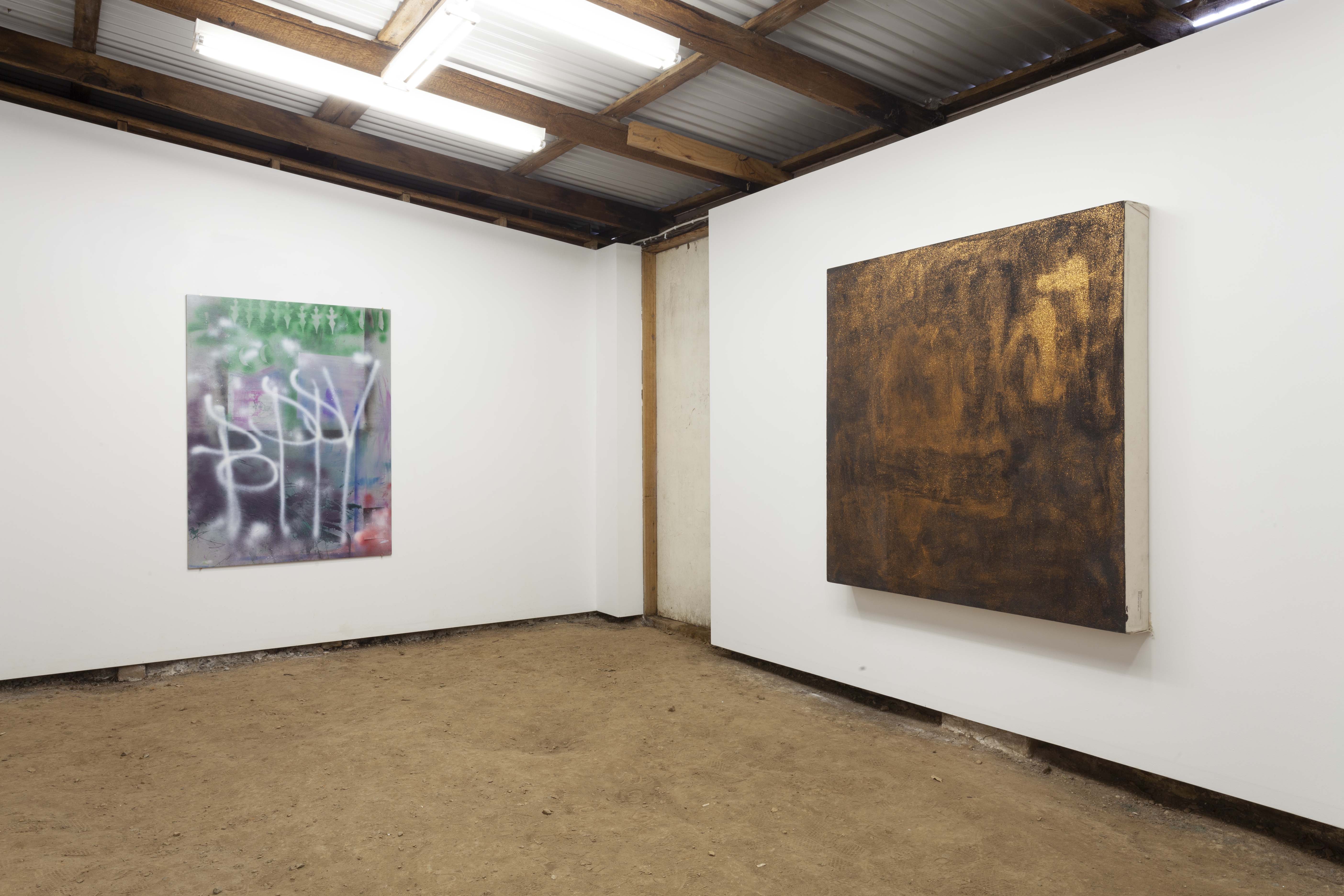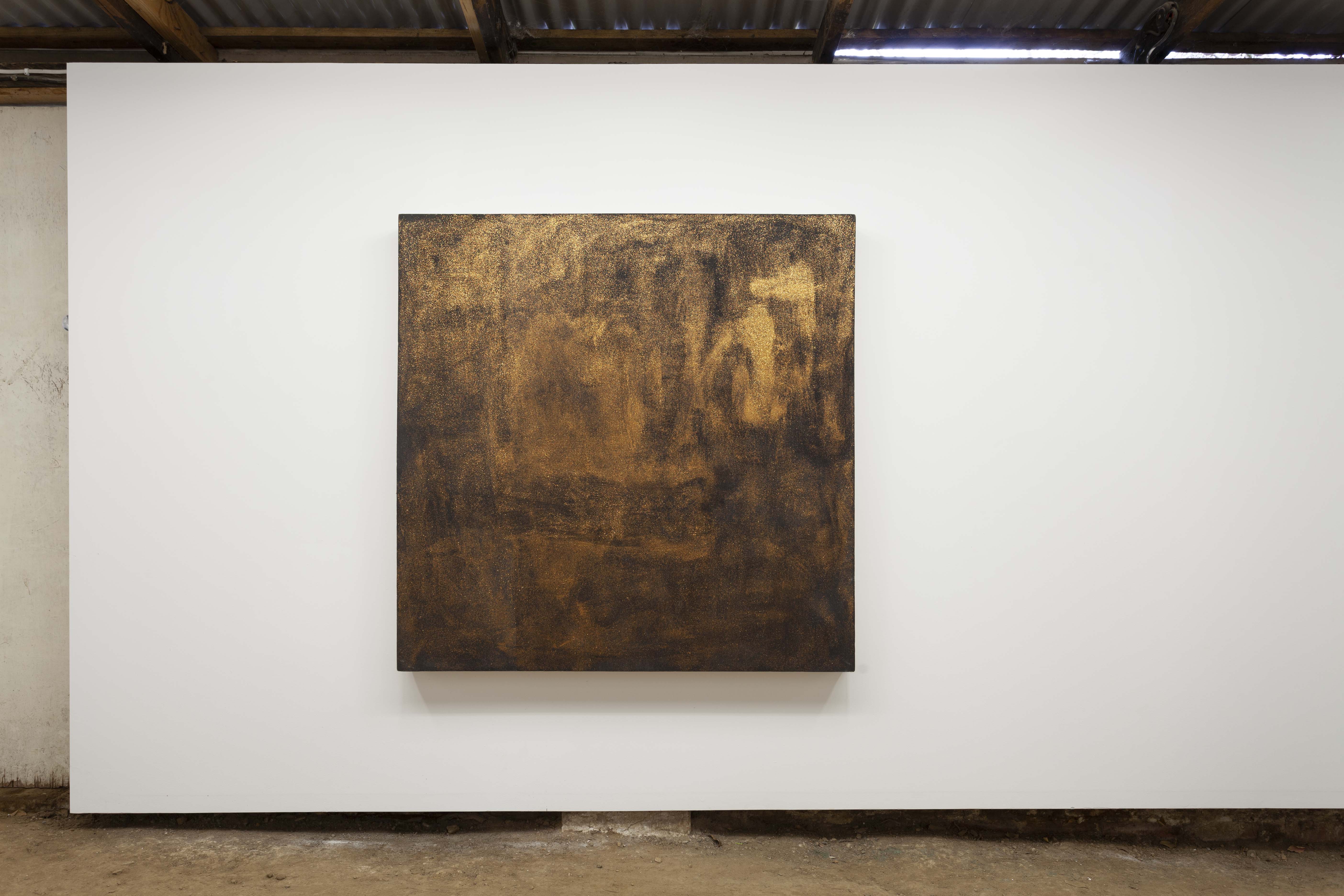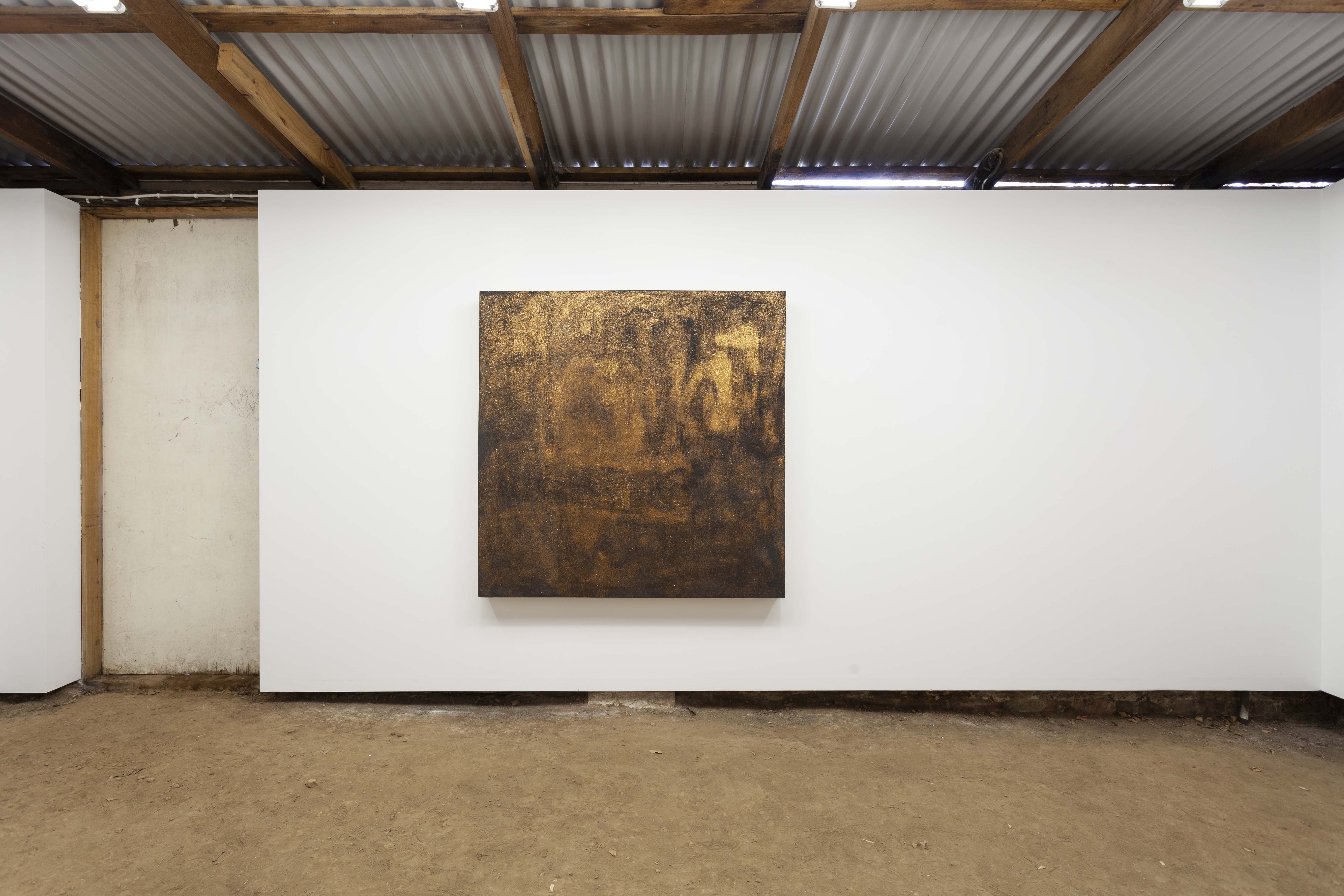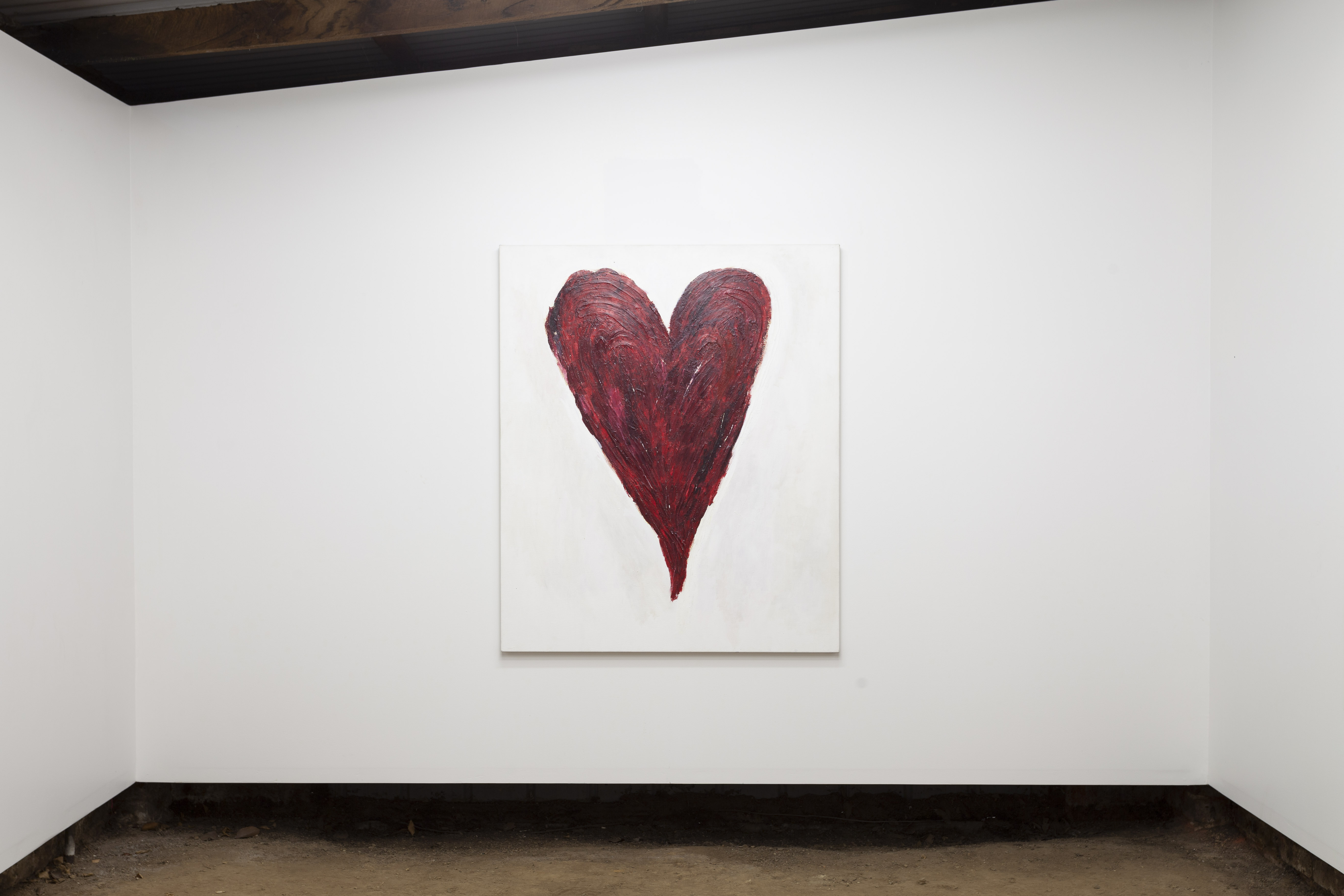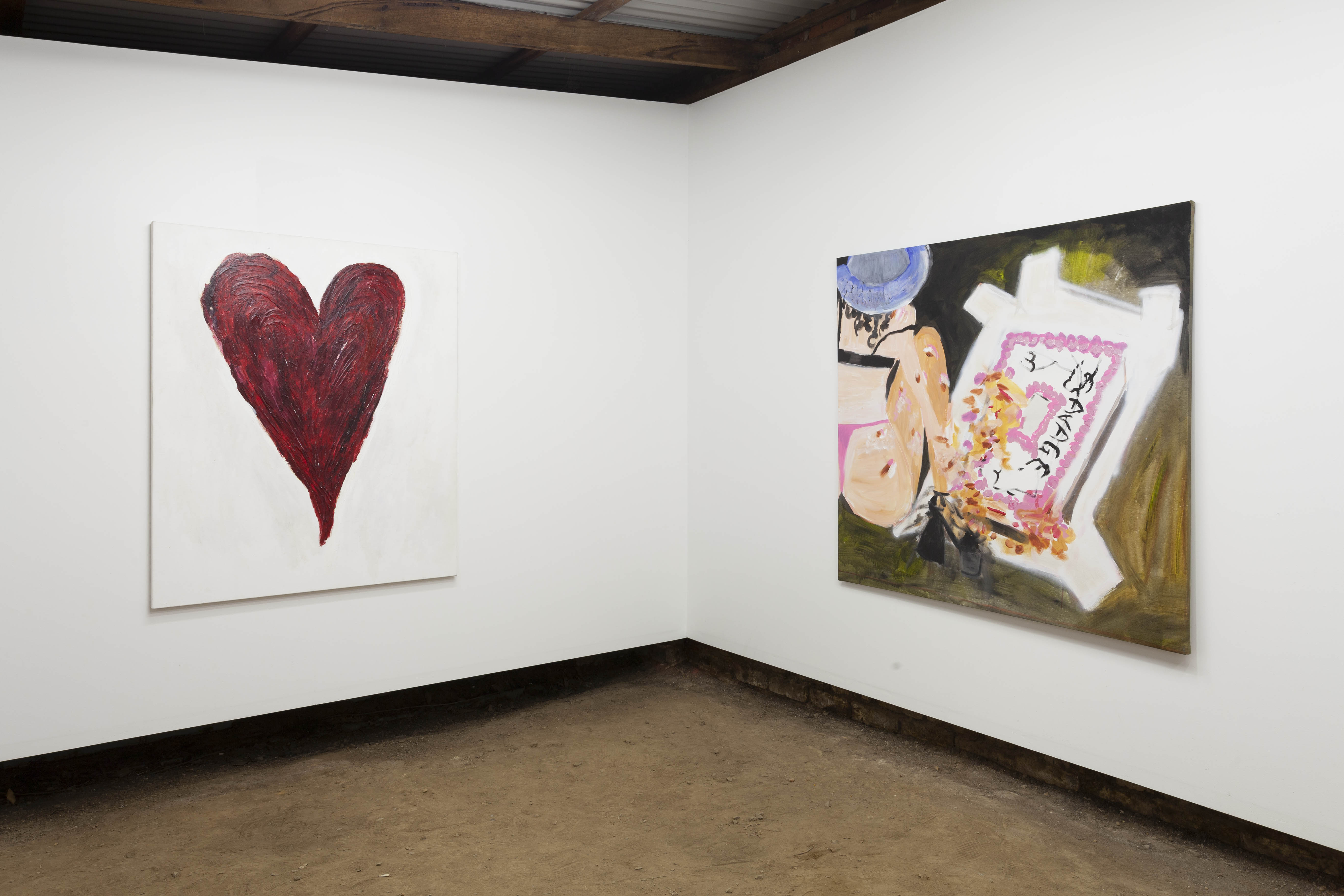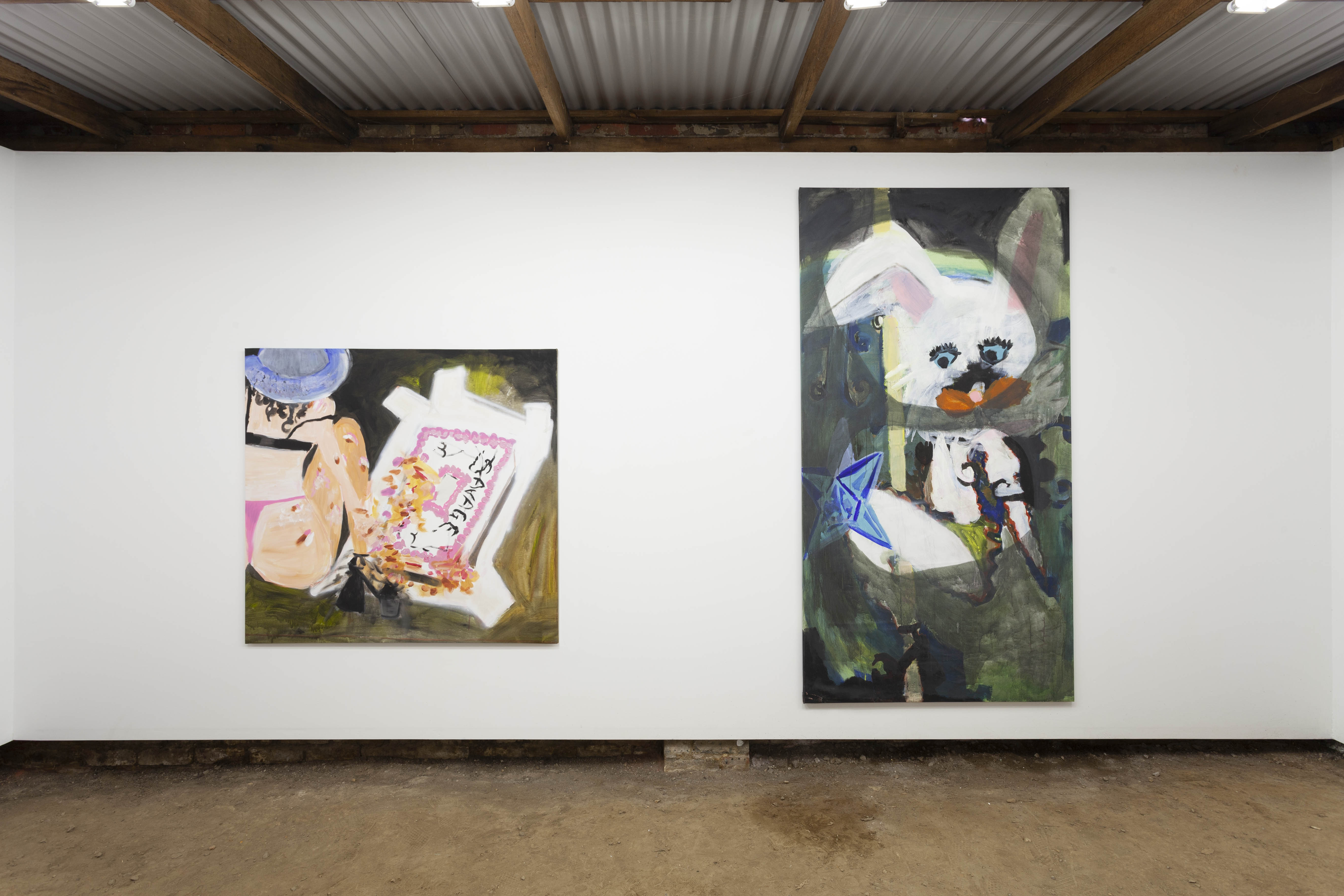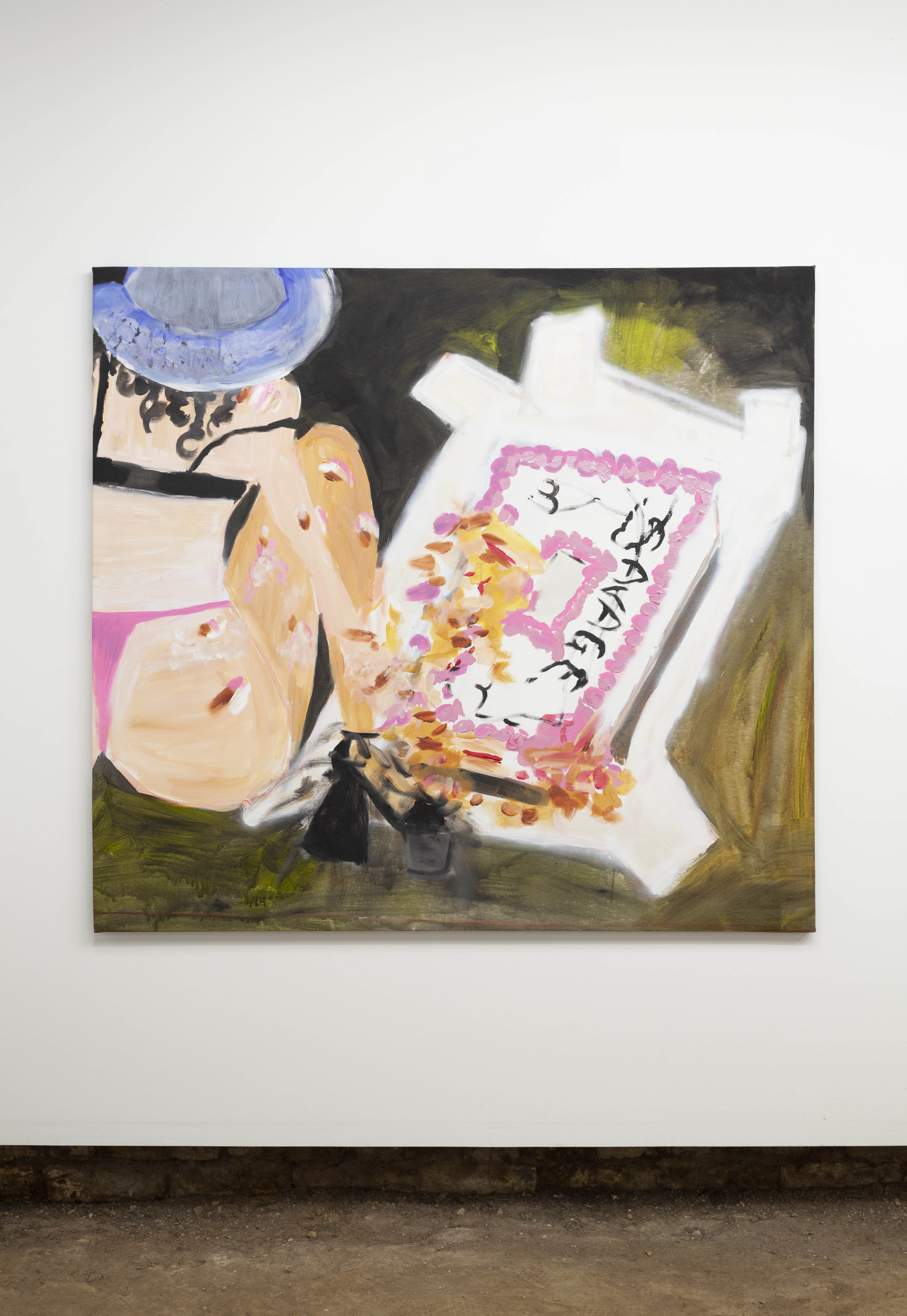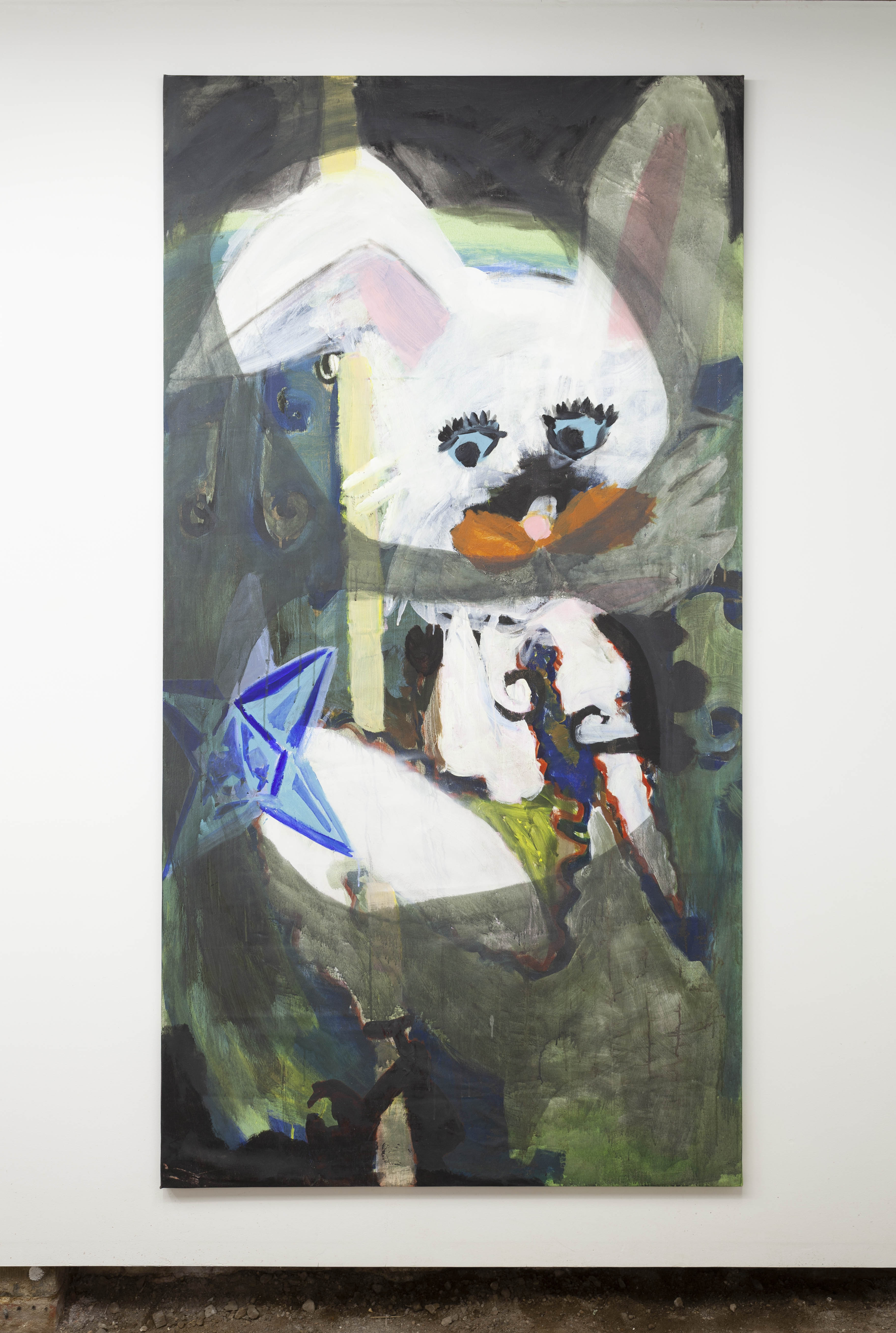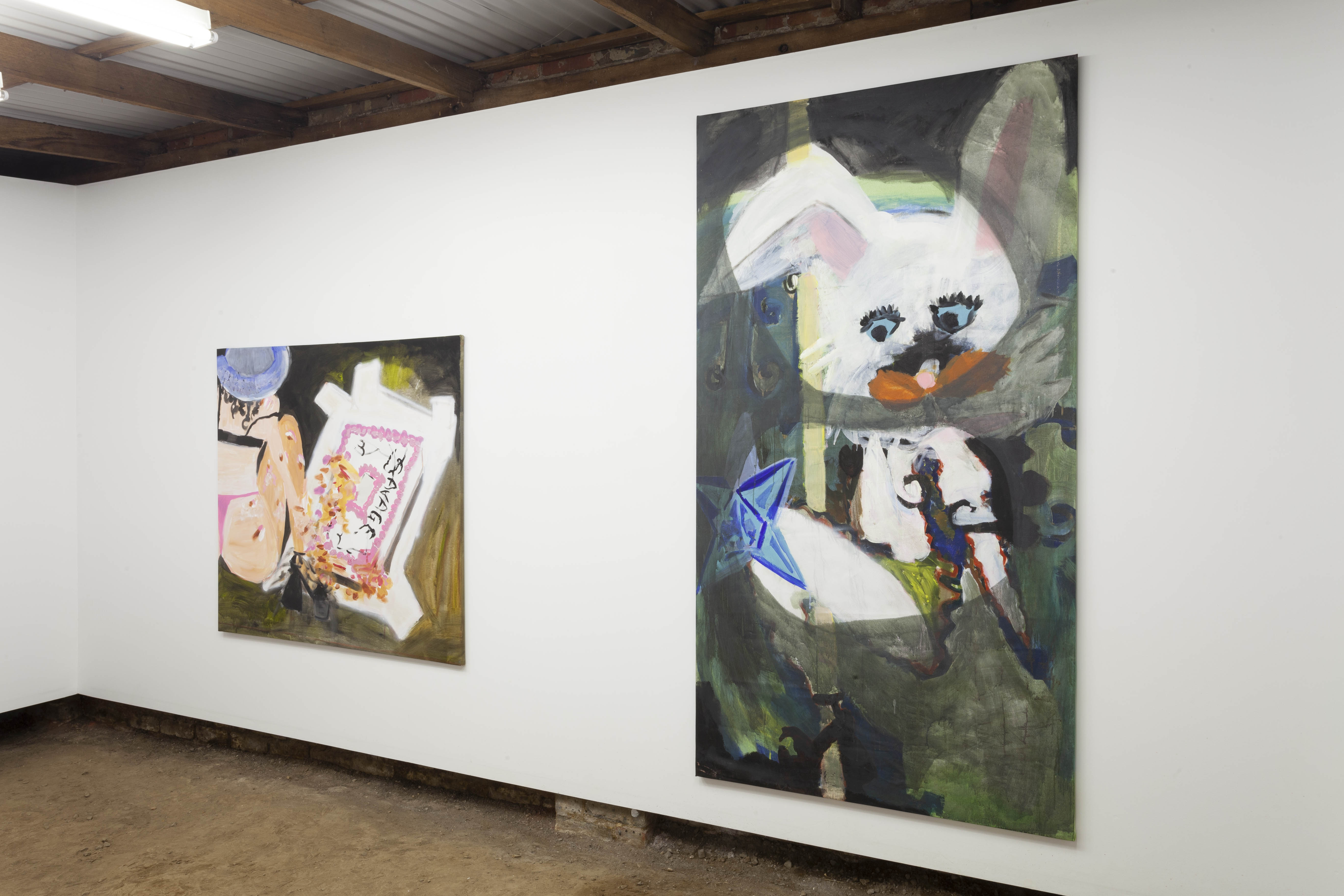 In order of appearance
Alethea Everard, Alethea Everard 598 Spencer Street 2020, 2020
Hana Earles, Chloe Sevigny's McFeminist Psychiatrist Hospital, 2018
Evie Poggioli, untitled, 2016
Grace Anderson, Hoe Cakes, 2020
Grace Anderson, Bunny: I promise I will never use bondisands, 2020